A more detailed level of explanation on both the positive and negative aspects of hydropower. Alternative energy sources are a mainstay for ecological balance and the article content gives a healthy look at an ancient power source.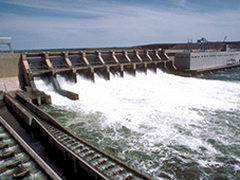 Hydropower renewable energy is derived from moving water, such as waterfalls, rivers, and dams, and it is an alternative energy source. It is very important to take a look at the pros and cons of hydropower to really evaluate its usefulness.
Hydropower pro 1 – There are no
greenhouse gas emissions
or carbon dioxide from generating hydropower renewable energy, so there is no resulting air pollution to harm the environment or lead to
global warming
. Hydropower is generally considered clean.
Hydropower pro 2 – The flooding associated with hydropower can have positive aspects. The areas that are flooded as a result of generating hydropower renewable energy can become a new home for new species of wildlife and fish, which can survive in local conditions. Hydropower dams also have great irrigation effects, and they turn the surrounding area into fertile space.
Hydropower pro 3 – It is possible to produce electricity at a constant rate once a damn is constructed. It is also possible to stop electricity generation when it is not needed by closing the sluice gates. In that way, the water can be preserved for a time when there is not a high demand for electricity.
Hydropower pro 4 – Dams are built to last for a very long time, so they can generate electricity for many years or even decades. The water gets built up in a lake, which means that the energy gets stored until it is needed, and then the water can be released for electricity production.
Hydropower con 1 – Besides the pros, the cons of hydropower are also numerous. Its main con is the equipment used. The turbines can have devastating effects on the local fish population. With large amounts of water going through the turbines, there could be a lot of fish going along too. The turbine, of course, kills the fish, which may decrease the quantity of or endanger certain species. Thus, a dam changes the fish and wildlife in the area, as well as the landscape.
Hydropower con 2 – Hydropower dams affect the local population as well. People who live in towns and villages in the valley that will be flooded have no choice but to move. This could mean that their businesses and farms will be lost. In certain countries, sometimes people are forced to vacate the premises so that hydropower dams can be built.
Hydropower con 3 – Dams take up a lot of space and are usually built on undeveloped land that is wooded. It is often necessary to clear the woods, which increases greenhouse gas emissions in the area significantly. The plants and trees that previously acted as carbon sinks and captured the harmful carbon are no longer there, which adds to environmental damage.
Hydropower con 4 –
Hydropower dams
are extremely expensive to build and it can take years to gain some kind of return on investment.
For the original article,
click here
For more information, go to:
www.hydropower.org
,
en.wikipedia.org
9 Responses to "Pros and Cons of Hydropower – Updated Article With New Information"
Leave a Reply
You must be logged in to post a comment.