Disadvantages of Hydro Energy Generation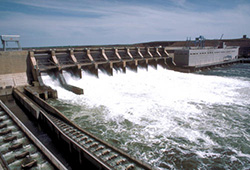 Hydro power generation is one of the oldest of all power sources used by man, but the technology used for this process has advanced significantly. In times past mills were powered by rivers, including grain mills and other ancient mills. This form of power is used to create almost one fourth of the electricity used around the world in the modern day, and the equipment used is somewhat different than that used long ago. More than one billion people around the world get electricity from hydro power, and more than thirty five million of these people reside in the United States. This is the most abundant power used that does not harm the environment, but it still only accounts for less than fifteen percent of the overall electrical generation in the USA. This leads a lot of room for improvement, especially since hydro
power generation
is environmentally friendly, does not pollute, and is very efficient.
How Does Hydro Energy Generation Work?
This power source requires a dam and a reservoir. In addition, turbines and generators are needed plus pipes, which are also called penstocks. Water flows from the dam and is channeled to the power generation area. This water drives the turbines and creates power, which the generators then turn into
electricity
. The electricity produced is transferred over to a substation for electrical power, where it is used to meet consumer demand. The amount of electricity generated during the hydro power generation process will depend on a few different factors. One of these factors is the height that the channeled water falls from, and this fall is referred to as the head. The higher the height is that the water falls from, the more electricity it will generate. Another factor that determines the amount of electricity generated is the volume of water that is falling or flowing. The more volume there is in the water flow, the more electricity will be produced.
Benefits of Hydro Energy Generation
The hydro power generation process is very clean, with no pollution or other harmful environmental effects from it. Hydro power is the cleanest and one of the most efficient energy sources possible. This process releases no greenhouse gases, so it does not contribute to global warming, and it does not require any fossil fuel use. Many hydro power generation plants are renewable energy sources, and they offer
sustainable power
that renews itself. The costs of building hydro power generation plants are much cheaper than building nuclear power plants, and many times the governments will help cover many of the costs involved. These plants offer many benefits to the surrounding area, but there may also be some disadvantages to these plants, depending on where they are located.
Hydro power generation plants may pose a few disadvantages, depending on the area being considered. Sometimes these plants can change the local environment drastically. To be efficient, hydro power generation plants need a reservoir, and this may result in many acres of land being flooded. This can mean the removal of homes and people, plus the relocation of entire species that habitat the area. Some states have assessment criteria to weight the benefits against any possible disadvantages that a hydro power generation plant would have on the area. Evaluations include factors including any impact the power plant will have on the quality of the water, on the river flow, on the fish population and their passage, and on any threatened or endangered species in the area. The evaluation usually also focuses on any protection for watersheds that may be impacted, and any cultural resources that could be adversely affected. This can ensure that only green hydro power generation plants are built.
8 Responses to "Pros and Cons of Hydro Energy Generation"
Leave a Reply
You must be logged in to post a comment.