Data relating to overall hurricane size as it compares to damage, injuries, cost and loss of lives.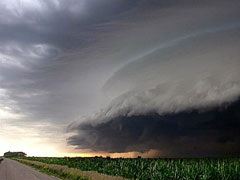 Meteorologists measure the severity of
hurricanes
using the Saffir-Simpson scale. According to this scale, category 1 is the weakest hurricane and category 5 is the strongest. Actual hurricane damage in the U.S. is measured by loss of lives and damage to the environment and property.
The biggest loss of life from a hurricane in the US occurred in 1900, in Texas. A category 4 storm hit the city and flooded Galveston, causing 8,000 recorded deaths; although experts estimate that more than 12,000 people may have died. More recently,
meteorologists
have developed technology to offer better predictictions of the movements of hurricanes. As a result of increased technology and analysis, there are faster advisement times and trajectory potentials which offer a lowered percentage of lost lives. Each storm of increased size has also brought with it higher damage costs.
These are the most damaging hurricanes that have hit the US in modern times.
1.
Hurricane Katrina
Certainly the most devastating of hurricanes in American recent history. It occurred in August, 2005 and it killed nearly 2000 people and caused damage estimated at 200 billion dollars. It was recorded as a hurricane category five and listed as one of the top five hurricanes to hit the U.S. coast in history.
2.
Hurricane Andrew
A category five storm that nearly blew South Florida away in 1992. Gusts reached an incredible 170 miles per hour, and the storm caused approximately 30 billion dollars in damage.
3. Hurricane Wilma
Another monster storm from 2005. Largely lowered in priority due to Katrina, Wilma wreaked havoc on Cape Romano, Florida, killing 31 people and causing $21.5 billion in damage.
4. Hurricane Rita
Yet another storm from the infamous 2005. It hit the US coast just a few weeks after Hurricane Katrina, causing the death of over 150 people, as well as 6 billion dollars worth of damage.
5. Hurricane Camille
Out of all the destructive hurricanes to have hit the US, this is one of the worst. A force 5 storm, it hit Mississippi in 1969. Wind speeds reached 180 mph. More than 250 people were killed and damage of 1.5 billions dollars.
6. Hurricane Donna
In 1960 Hurricane Donna plowed into the Florida Keys, and then continued on to Fort Myers before landing in North Carolina. It went all the way up to New England before losing strength. More than 364 people were killed in the storm as well as $900 million in damage.
7. Hurricane Charley
Another whopper whirlwind, which Florida took the brunt of once again. Hurricane Charley occurred in 2004, landing in Charlotte Harbor, Florida. Charley had 150 mile an hour winds, killed 35 people, and caused 14 billion dollars in damage. This one really surprised
weather forecasters
, as it moved in an such unpredictable way.
8. Hurricane Hugo
While only a Category 4, Hurricane Hugo killed 34 people and caused over 100,00 to be homeless. This was one of the more destructive hurricanes the US has ever suffered through. It caused 7 billion dollars (1989 prices) worth of damage. Landing in South Carolina it took many years to rebuilt.
9. Hurricane Celia
In 1970 hurricane Celia hit Texas, and did no less than 450 billion dollars worth of damage. 11 people were killed, more than 9,000 homes were completely destroyed, and tens of thousands of buildings suffering from extensive damage.
10. Hurricane Eloise
In 1975 Hurricane Eloise landed in the panhandle of Florida. Listed as a Category 5, 21 people died and more than 1 billion dollars of damage was done. Wind speeds reached a frightening 160 miles per hour.
For the original article,
click here
24 Responses to "Top 10 Most Devastating Hurricanes in American History – updated article with additional information"
Leave a Reply
You must be logged in to post a comment.