Its the Asians that get the brunt of the worst hurricanes. North and Central America has its fair share too, as we all know, but this is nothing compared to what the far east has suffered from over the centuries. Take a look at the worst hurricanes ever to see:
1)
Bhola Cyclone.
What is now known as the country of Bangladesh suffered badly from the Bhola Cyclone in 1970. This is considered one of the worst hurricanes in history, because an estimated 500,000 people died under its wrath. One district reports to have lost almost half of its entire population. A Category 3 hurricane, the Bhola Cyclone had gusts of wind as high as 130 mph. Calculated in today's currency, the damage would cost nearly $500 million.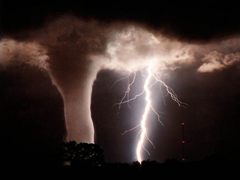 2)
The 1991 Bangladesh Cycle.
Bangladesh is once again a host to one of the worst hurricanes ever. It started in the Bay of Bengal, and kept moving in the north-west direction, while continuing to intensify. At times the wind was as strong as 160 mph. The storm left at least 138,000 people dead, costing over $1.5 billion in damage.
3)
The 1922 Swatow Typhoon.
The next on our list of the worst hurricanes in history is the Swatow Typhoon, which was first spotted in the Pacific Ocean near the Caroline Islands. It kept moving north, slowly intensifying, until it entered the China sea and hit the city of Statow in China a few days later. Water levels were raised 12 ft above normal, with winds reaching speeds of 100 mph. Almost 50,000 people died as a result of this storm.
4)
Haiphong Typhoon.
In 1881 the town of Haiphong, Vietnam was hit with a devastating typhoon, where an estimated 300,000 people were killed. The winds were gusting at 100 mph. Unfortunately, it was hit again in 2005 by another monster storm, but only 150 people died the second time.
5)
The 1867 Great Backerganj Cyclone.
Continuing our worst hurricanes ever list is the Bay of Bengal. This area suffers again, as this hurricane brought wind speeds of 136 mph, and the biggest waves of 45 feet! This storm caused massive property damage and about 200,000 people where killed.
6)
The 1975 Typhoon Nina.
This is one of the largest typhoons ever recorded in the history of hurricanes. With wind speeds reaching 155 mph, it landed between China and Taiwan, hitting mostly mountain terrain. However, cities and towns still suffered damage, with the death toll well beyond 100,000, and $1.2 billion in damage.
7)
The Calcutta Cyclone.
It is difficult to get solid evidence of this disaster as it happened in 1737. Records from that time state that a large storm wrecked the coastal areas with an estimate of 300,000 people killed. The storm destroyed many thatched villages and thousands of ships.
8) Great Backerganj Cyclone. Poor Bangladesh! No doubt the country hit hardest over history by hurricanes, in 1876, present-day Brisal, Bangladesh's Meghna River saw a 40-foot storm surge. This caused about 200,000 deaths, with winds as high as 126 mph.
9)
Cyclone Nargis.
Burma (Myanmar) was struck with this one in May 2008, with winds reaching 105 mph. Over 146,000 people were killed in this Category 4 storm, and thousands more were missing. The estimated damage afterwards was over $10 billion.
10)
The 1839 Indian Cyclone.
Coringa, India was hit hard with a 40 ft storm surge, which virtually destroyed this city. 300,000 people were killed and the city was never rebuilt.
For more information, go to:
http://en.wikipedia.org/wiki/Tropical_cyclone
Leave a Reply
You must be logged in to post a comment.