10. Hurricane Eloise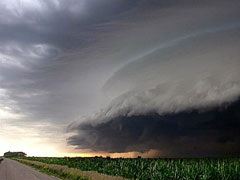 Hurricane damage can be related in a variety of terms: cost, overall damage and loss of lives. These ten hurricanes encompassed the gamut of all topics


Devastating hurricanes can cause billions of dollars worth of damage


The Hurricane Katrina devastation is well known, and almost two thousand people died and hundreds of billions in damages were caused


There have been a number of devastating hurricanes to hit the United States in the last hundred years



1. Hurricane Katrina
This hurricane was one of the most devastating hurricanes in American history, if not the most. This hurricane started out on August 23, 2005 and by the time it was done almost two thousand people were dead and damage estimates could be as high as two hundred billion dollars. In both lives and money, this was one of the most devastating hurricanes for the United States ever. As far as hurricane categories go, Katrina was a five.

2. Hurricane Andrew
This hurricane was a category five storm that hit South Florida on August 24, 1992. Winds were clocked at one hundred and sixty five miles per hour, and caused thirty billion dollars in damage at the time. South Florida was devastated, and many buildings and homes were completely demolished. At the time Hurricane Andrew was considered the costliest hurricane ever to hit the USA.
This hurricane started in September of 1975, and was responsible for twenty one deaths and more than one billion dollars at the time. Winds reached one hundred and fifty six miles an hour, and this was the first serious hurricane that had managed to affect this area, so it was unexpected.
Leave a Reply
You must be logged in to post a comment.