For residents of the Central States of the US - bad luck! You live in the most tornado prone region in the world! This may make for the best tornado chasing there is, but it also makes for some grizzly destruction.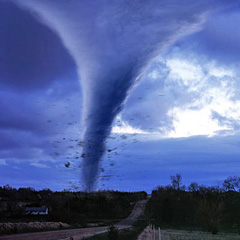 Most of us know from documentaries and films that tornadoes are classified from F0 to F6, and that this depends on the speed of the wind and circumference of the tornado when it touches the ground. Well, all the tornadoes on this list were all furious beasts of the F5 and F6 type. Rest assured, you wouldn't want to be there..
The 6 Worse Tornadoes in History (including the Worse Tornadoes in US History ):
The Tri-State Tornado of 1925
This sizzling spinner touched down in Missouri and ripped up 220 miles of land as it plundered forth to Indiana. 695 people had a date with the grim reaper on that day, with another 2770 people who survived it but were left badly injured. Wind speeds hit over 300 mph, and damaged even steel-reinforced concrete buildings. This is the worst tornado disaster to ever hit US shores, or in fact any shore in the world.
The Gainesville-Georgia Tornado of 1936
Two tornadoes crossed paths to produce a twister of terrible proportions. It was 700 meters wide, and left 203 people with no chance. Another 930 were injured as 285 buildings were completely taken out.
The Great Natchez Tornado of1840
Amazing to think what damage tornadoes have done in the centuries gone by. Fortunately, with the relatively small global population of the pre-industrial days (particularly in the Mid-West!), it was unlikely that many people would have been affected. In 1840, however, an F5 wopper killed 317 people, which makes it the second most deadly US tornado ever.
The Indiana Tornadoes of 1965
This was not just one terrible twister, but in fact a series of 11 of them which plowed through 20 countries. 265 people were wiped off the map, and 1700 more were badly injured.
The Bulahdelah Tornado, New South Wales, Australia – 1970
Just to show that its not all about people, and the US, let us take solace with the more than one million trees that were felled in this F5 biggy. It took decades for the region to recover from the environmental impact, but at least this time no lives were lost!
The Pennsylvania-Ohio Tornadoes May 31, 1985
This is the most recent tornado on this list and the most deadly for over 50 years. No less than 41 whirlwinds of wrath levelled large swathes of built up areas across Pennsylvania and Ohio. The pictures of the devastation which were reported across the world afterwards were mind-boggling. Fortunately, with the general populace being better prepared for tornadoes than in the past, 'only' 75 people were killed, and 1025 were injured. A few decades beforehand, however, and this death-toll would have been much worse. That is something to be grateful for, at least.
For more information on tornadoes, go to:
http://en.wikipedia.org/wiki/Tornado
http://www.nssl.noaa.gov/edu/safety/tornadoguide.html
Leave a Reply
You must be logged in to post a comment.