If you've been wondering what countries use solar energy, here is a comprehensive list of the greenest ten of them all.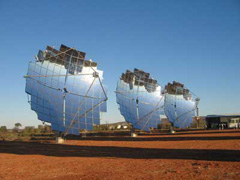 1. Germany (9,785 MW) – Ironically, Germany is not a very sunny place, and yet it has managed to become a world leader in countries using solar energy. About half of the total solar electricity produced in the whole world comes from Germany alone! Praise be to Germany's very green leanings.
2. Spain (3,386 MW) – In 2007, a bylaw made solar panels compulsory for all buildings that are built or renovated in Spain. Non-residential buildings that are new, like hospitals or shopping centers, are required to use solar panels for generating a certain portion of electricity they use.
3. Japan (2,633 MW) – Next on our list of what countries use solar energy is Japan, and it is doing everything it can to become the new leader in solar energy use, with the support of the private sector and local authorities. In 2009, about $9 billion was invested in Japan's solar energy field, and a plan was announced to install solar panels in the country's 32,000 public schools.
4. United States (1,650 MW) – National legislation is due to move the United States forward in countries using solar energy, and in the coming years the country's total installed capacity is expected to grow. In 2009 the federal solar tax credit cap was eliminated, which promotes the solar energy industry growth. (To read about Obama's big plans for solar energy,
click here
).
5. Italy (1,167 MW) – Like the other countries, solar energy here is big, and Italy has a lot of sunshine going for it. Italy experienced the second-largest increase in solar energy use on earth in 2009.
6. Czech Republic (465 MW) – In 2009, with the exception of Germany, Czech Republic installed more new solar power per capita than any other country in the world, so the country's solar energy industry is booming.
7. Belgium (363 MW) – Belgium offers many tax rebates and "a well-designed Green Certificates scheme" for solar power use. However, it is not projected to do as well in 2011, since a tariff decrease is predicted.
8. China (305 MW) – China has many projects under consideration, and the implementation of these projects will push the country closer to the top of this list. However, the plans are still quite vague as to when this will happen. As of now, however, the energy output from solar power is still quite high. (To get some solar energy investing tips,
click here
).
9. France (272 MW) – Although France is one of the top countries using solar energy, there is concern that a large number of megawatts of solar energy installed has not been connected to the grid. This issue must be resolved.
10. India (120 MW) – India's demand for electricity is growing rapidly, much like China's, and it is also quite a sunny place. India's government has been confirming its stance on clean energy by setting a goal to reach 20 GW by the year 2020.
For more information on solar energy, go to:
http://en.wikipedia.org/wiki/Solar_energy
http://www.solarenergy.org/
Leave a Reply
You must be logged in to post a comment.