Passive solar energy is affordable energy at its best. So what exactly is passive solar energy? Passive solar energy is the ability to harness sunlight and convert it to energy without using active mechanical machines. There are definitely pros and cons of solar energy with passive solar energy being one of the biggest upsides. Passive solar energy designs in building and homes are making affordable solar energy a reality. Passive solar is used for low-energy needs to provide heat and cooling. Some passive energy systems use low-power technologies to make solar energy but for the most part there are no motors involved.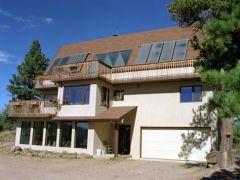 With passive solar energy systems built into the design of homes and buildings the occupants can save money and also be good stewards of the environment. Solar panels are heavily used in the design of passive solar energy systems to heat buildings as well as water. Passive solar designers look to utilize windows, walls, ceilings and floors to capture sunlight and then redistribute it as energy throughout the building. Many passive solar buildings have large windows facing the south in order to best capture daylight.
With green building and green real estate on the rise, and in many cases mandated, passive solar energy design is on the rise. Most expert designers are able to incorporate passive solar energy designs into the building without it costing more money. Passive solar energy designs are versatile and can be used in virtually any part of the world. Although there are pros and cons of solar energy design, the savings of passive solar energy systems make it an attractive option for affordable solar energy.
Leave a Reply
You must be logged in to post a comment.