Photovoltaic solar energy utilizes solar energy technology and materials to produce sunlight into direct electricity. Photovoltaic solar energy is becoming increasingly popular even thought there are definite pros and cons of solar energy.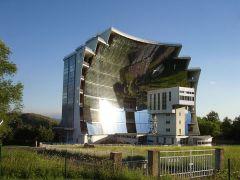 Photovoltaic solar energy production has been doubling nearly every two years because of increased demand. It is currently the world's fastest growing technology. This rapid increase in demand has many people investing in solar energy stocks. Solar energy stocks have provided investors with huge double digit returns for those who put their money in the right company.
Nearly 100% of photovoltaic solar energy is tied up in grid electrical systems. These systems are arranged in rows of panels mounted to the ground. California is one of the biggest users of photovoltaic solar energy because of excellent climate conditions which support the use of solar power. One of the pros and cons of solar energy is that climates with a lot of sun can utilize while low sun climates cannot.
In recent years technology has increased and the price of solar energy has fallen making it a more competitive option. Start up equipment is also being financed through unique purchase agreements allowing homeowners to have systems installed without having to up front a lot of money.
The United States is not the only user of solar energy. In fact, the world's biggest power plants are Spain and Germany. These international power plants are more than double the size of any photovoltaic solar energy power plant in the US.
Leave a Reply
You must be logged in to post a comment.