2010 has been recorded as one of the hottest years around the globe. In the beginning 5 months of the year, the temperature of both the ocean surface and land was the warmest ever recorded, and it was 1.22 degrees F warmer than the average of the whole of the 20th century. In addition, the NSIDC – the National Snow and Ice Data Center – reported that the Arctic sea ice was melting extremely quickly by May, and 50 percent faster than the average recorded melting rate for May.  This intensity has been blamed on a rare combination of global warming and an oceanic convergence called El Nino.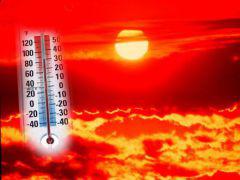 The
heat wave
2010 continued in many parts of the world as well as the U.S.. Records have been set for the heat index in US, cities such as Philadelphia, New York City, and Boston having all gone up beyond the 100 degree mark. On July 6th it was 113 degrees in Baghdad, but that is still cooler than in Kuwait, which created a new world record that day with a high of 122 degrees Fahrenheit. Beijing also has broken a new record with 105 degrees Fahrenheit.
One of the hardest hit by the
heat wave
, Russia, experienced extreme drought and the highest temperatures in 130 years. The
heat wave
in Russia has caused many deadly wildfires and killed thousands across the country. The
heat wave
2010 has also cost the Russian economy $15 billion, as drought and fires torment the country. India also reported thousands that died due to the increased heat across its country.
A scientific study conducted recently predicted various things, particularly about the U.S.
heat wave
. It concluded that some of the worst affected parts of the country would be highly productive agricultural regions. This obviously has sparked some concern about how stable the American food supply would actually remain if the world keeps warming. The study also suggests that what we refer to as a "
heat wave
" now, could actually just be called "summer" in the 2030s. If the temperatures continue to rise steadily the way they have been over the recent years, this may very well be possible. With the increase in global warming and the occasional el nino occurance, this indeed could happen again!
For further information on the impact of global warming, click here
To continue reading, click here
.
8 Responses to "The Heat Wave 2010 – can this record breaker happen again?"
Leave a Reply
You must be logged in to post a comment.