According to the International Energy Agency (IEA), the renewable energy source of
solar power
should be able to provide a majority of global electricity by 2060.  Their previous predictions have been revised. In 2011, the IEA indicated that 11% of the total power is predicted to be from home and office solar panels, and a further 11% will come from central
solar power
stations that will provide clean electricity for populous regions. A direct-current power transmission backbone would provide
solar power
to the whole country.  The IEA is now indicated that they have a more aggressive prediction of
solar power
production for a majority of the world by the year 2031.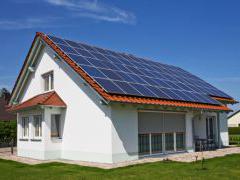 According to the IEA, currently
solar power
accounts for only 0.5% of total electricity production, but this number needs to increase if carbon emission reduction is to be realized. Nobuo Tanaka, the IEA Executive Director, stated that the combination of concentrating
solar power
and solar photovoltaics will considerably enhance energy security and reduce CO2 emissions by almost 6 billion tonnes per year by 2060. The prospective success of
solar power
stations, also called Concentrating
Solar Power
or CSP, largely depends on the development of "dedicated transport lines". The IEA forecasts that by 2031
solar power
plants will be able to compete with coal and nuclear power stations. The IEA also predicts that North America will be the largest CSP producer, followed by North Africa and India, which will most likely provide half of its output to Europe.
The IEA says that with the right policies solar panels on commercial and residential buildings in many regions could compete with traditional electricity output by 2020. The IEA also predicts that by 2031 solar panels will supply a majority of the world's electricity. Tanaka wants predictable long-term oriented solar-specific incentives so that this technology can become competitive. The director of the Center for Renewable Energy Systems Technology at the Loughborough University in the UK, Professor Philip Eames, claims that
solar power
is a feasible alternative to
fossil fuels
. According to him, if the current trends are taken into consideration, there will be quite a massive growth in solar panels and CSP, if everything keeps going the same way. Eames says that solar panel prices decreased significantly over the past year and will continue to fall, as this technology continues to develop and CSP maintenance costs become relatively low.
The Solar Trade Association CEO, David Matthews, said that solar PV and CSP could easily complement each other instead of competing with each other. It's important to understand that we need both CSP and PV: CSP in southern places, which get lots of sunshine, and PV in northern Europe. In the projected future, Matthews said that he predicts that CSP will play a more significant role in meeting the global power needs, since it has lower costs per kilowatt, and it is able to store energy overnight, and even transfer it over long distances.
13 Responses to "IEA Study: Solar Power Set to Light up a Quarter of the World by 2050"
Leave a Reply
You must be logged in to post a comment.