The 2011 Nissan Leaf is certainly not a low-volume exotic vehicle such as the Tesla Roadster nor an electrified version of a traditional gasoline car, such as the Mitsubishi i MiEV. It is definitely not a plug-in hybrid like the Chevrolet Volt nor a common hybrid like the Toyota Prius. The 2011 Nissan Leaf is a completely new, purpose-built,
battery-powered
family car that will be mass-produced, and as it happens, the very first of this type in the world. However, don't run to the Nissan dealership yet – thinking you are getting the only mass-produced battery powered car.  There are a number of automotive manufacturers that have released cars that you just might want to take a look at.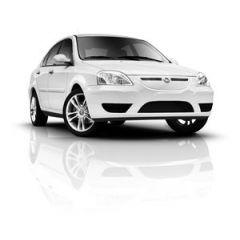 The demand for an
electric car
that offers the look and feel of a standard gas powered car has been long coming.
Electric cars
have finally entered the playing field and while Nissan was the most innovative in their presentation of the Nissan Leaf, the world's car manufacturers are not going to sit around and let Nissan get all of the sales.
Other automotive manufacturers that have released battery powered cars on a mass scale include: Kia and Renault Samsung. Plans are on the drawing board, if not already in the showroom by the big three U.S. automakers for their versions of the car. As more enter the arena, it will now return to the consumer to decide which vehicle matches their needs most and what extras they can get as standard as well as special order.
Since the Nissan Leaf was the first to be on the road with such a standard of excellence in the drive, what really matters is what it's like to live with a
battery-powered
electric car
. There is a measurement gauge that you need to consider before buying an
electric car
, most of which is based on how you drive and the distance you drive. Some
electric cars
have a max distance of around 100 miles as well as a max speed of 90 mph. Battery powered cars are designed for city roads, not interstate highways, so this can be a downside if you commute on the freeway a lot. Recharging time is another consideration. In some cases, it takes a full eight hours to recharge the battery, but there are options of getting to an eighty percentile in about thirty minutes at some of the specialty high-energy recharge stations.
There are still some major hurtles to overcome with
battery-powered
electric cars
. But, for most of our human population, that live and drive within the city limits, these vehicles are an excellent choice for saving money and the environment.
5 Responses to "The First mass-Produced Battery-Powered Car: Has the Combustion Engine Finally Met Its Match?"
Leave a Reply
You must be logged in to post a comment.