While this may sound like great news for vendors of ice cream and stores that sell and repair air conditioning systems, the long-term consequences might be dire. The combination of the
heat wave
and severe drought in Europe led to serious environmental damage in 2003. It resulted in catastrophic fires and over 30,000 deaths. The estimates of the U.N. conclude that there were financial losses of more than 13 billion euros that year.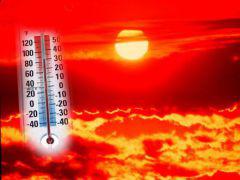 So, the big question remains is whether the
heat wave
2010 is a sign of global warming. And if so, then may people wonder why there was so much snow the winter before on the East Coast. Climatologists point out that one shouldn't jump to any conclusions because of single weather events, much more important is weather trends.
Asia, Peru and the Eastern Coast of the United States all set record breaking
high temperatures
. These were combined with out of control fires, drought and thousands of death. Billions of dollars in loss have been reported due to lack of the ability to grow traditional crops.
There are two powerful and yet common climate situations that occur on the earth. La Nina and
El Nino
. The latter is actually the process of the tropical waters in the center and eastern Pacific Ocean warming up. These occur every three to seven years, as an alternating circumstance. La Nina is a cooling of the eastern and tropical Pacific. While
El Nino
is common, it produces drastic changes when combined with the global warming aspect.
El Nino
actually pushes the heat process of the planet. When this is added to the already increased heat due to human-induced greenhouse gases, the outcome can produce devastating effects.
(Test your
global warming knowledge.
)
Unless we make a major reversal of the current global warming situation, we are bound to see record
heat waves
repeated, and 2010 will only be marked as the first of many.
4 Responses to "The Heat Wave 2010 – can this record breaker happen again? Part 2"
Leave a Reply
You must be logged in to post a comment.