Now that you have the equipment you need, it is time to find a good installer to put up your solar power system. Make a list of three or four solar panel installers, and interview each of them. Ask about price and experience, and ask for references that you can contact from previous installation jobs. Discuss any recommended insurance for the industry, and never use an installer who does not have the proper insurance coverage, or else you could put yourself at risk.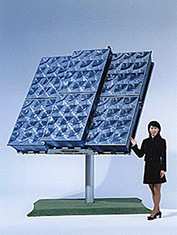 Solar power generation for every home could be a terrific way to
prevent a world energy crisis
and end our dependence on fossil fuels for good. Solar power technology is widely available, and with advances in technology this power source has come a long way. Solar power generation has some advantages and also some drawbacks, but the benefits far outweigh any downsides. It is possible to outfit a home completely to use
solar power
, and this can make your home extremely friendly to the environment. The first step in adding solar power to your home is to look it over carefully, and determine ways that you can lower your power usage. This can help you significantly reduce the amount of power you will need, so that it is easier and less expensive to change your home over to solar power. The more power you will need from the sun, the more solar panels you will have to buy and install. Determine whether you will use solar power alone or in addition to another power source.
Once you have determined how much energy a solar power system will need to supply, it is time to start looking at equipment and options. A solar hot water heater can be a great piece of equipment that can really help your home be more friendly to the environment. These appliances can provide hot water all the time or on demand, and can reduce the amount of power your home uses by one third. This is a significant amount, and you will see fantastic savings just from this step alone. You will also need to decide whether you will have an
alternate energy source
, for times when the sun is not out and providing solar rays. Most homes use solar power to greatly reduce their energy usage but still use some electricity or natural gas as well, but some homes rely solely on solar power and wood burning stoves for heat in colder winter temperatures, and times when sunlight is not available.
Now that you know what amount of solar energy you will need, and if you will use any other energy sources as well, you need to determine where you want to install the solar panels. These panels are usually installed on the roof, but there are other options available. Solar panels can be placed on the ground or on other structures as well. Any place the sun's rays can reach can be used for solar panels. If you are going to install the solar panels on the roof, make sure it is inspected thoroughly before the installation starts, to ensure the roof is in good repair and is not damaged or badly maintained. Now it is time to determine what type and manufacturer you will use for the solar panels. There are many solar panel system manufacturers and products to choose from, so do your homework and make sure you buy only high quality solar panels from a reputable solar panel provider. Watch for fly by night companies that offer inferior products that are not durable or effective. Most solar power products are legitimate, but there are scam artists in every industry. Solar panels are widely available online and in some home improvement stores and building supply stores.
14 Responses to "Solar Power Generation for Every Home"
Leave a Reply
You must be logged in to post a comment.