Biofuels have been proven to be a viable and effective replacement for fossil fuels, and using biofuels to power spaceships is entirely possible with a little research and development. The technology is already available, and as auto racing and the experiments with jets and other aircraft have already shown, most of the time no conversion is needed to
use biofuels
instead of fossil fuels. The future of the earth depends on ending the dependence on oil and other fuels that are highly polluting. This also extends to any spaceships we send into outer space. There is no reason that biofuels could not work in spaceships the same way these fuels work in other vehicles and machines.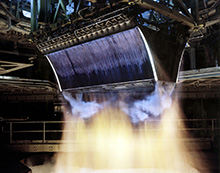 Is it possible to use biofuels for spaceships? With global warming becoming a bigger threat and air pollution at an all time high, biofuels may be the answer to the ecological crisis. But can the space shuttles that NASA send up, and other spaceships, work just as effectively and efficiently with biofuels as they do with traditional fossil fuels? The possibility is very promising, which could lead to using biofuels instead of petroleum based fuels. Biofuels have come a long way in the last few years, with more cars than ever switching to biofuels to help reduce greenhouse gases and slow down global warming. Race cars are used in the
world of auto racing
that run on either ethanol or biodiesel, and these cars have shown that they are still very competitive. Even jets have used biodiesel as fuel, but only one of the four tanks on the jet was filled with biodiesel, while the other three tanks contained jet fuel from fossil fuel sources. The biodiesel used for the jet experiment contained both babassu and coconut oil, and the experiment used a commercial 747 jet from Boeing as the test plane.
As experiments with jets and race cars has shown, biofuels can be a safe and effective alternative to oil based fuels. If these fuels work in the racing and flight applications, there is no reason to believe that they would not work to power spaceships as well. NASA uses
hydrogen fuel
cells as one power option, but rocket fuel is used to lift off and get the space shuttles into the outer atmosphere and space. This fuel is very damaging to the environment, with a lot of harmful emissions that affect the environment and the level of air pollution. Switching any fossil fuels with biofuels can go a long way towards preventing an even bigger environmental crisis. This goes for cars, trucks, planes, and even spaceships. If it is possible to run a race car on biodiesel and on ethanol, and come in first, then any vehicle can perform just as well with biofuels as it can with fossil fuels. Fifty years ago, man thought that traveling into outer space and visiting other planets was impossible, and spaceships only existed in science fiction stories. Now we go to outer space and other planets regularly.
Biofuels can be the answer to our dependence on petroleum and other fossil fuels, and this includes fuels used in the space program and the spaceships and shuttles. In the near future, more
space travel
than ever before will take place. There are already space tourists, who pay millions for a trip into space and a chance for a once in a lifetime experience.
4 Responses to "Biomass Fuel as Rocket Fuel Alternative for Spaceships"
Leave a Reply
You must be logged in to post a comment.