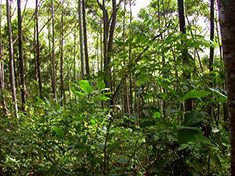 How much of the tropical rainforest biome have we already destroyed? What other beneficial rainforest discoveries have been made that could be the answers to some of mankind's major issues? Are we too late to stop the destruction?
27 to 60 million acres of tropical rainforest biome are annually destroyed around the world. About 25 percent of the Amazon Rainforest has already been cut down. It is mostly done for getting resources like ore and timber, but this biome can never be brought back. The tropical rainforest biome animals comprise about two thirds of the planet's wildlife. There are various species of tropical rainforest biome animals that are still unknown and have never been discovered. The rainforest also contains a variety of plants that may hold cures for many diseases plaguing humanity, like cancer and AIDS. Many of these plants have not been discovered yet, and new ones are being found by researchers all the time. There are also many native tribes in the rainforest, which have not had any contact with the outside world and still live the way they lived centuries ago.
Tropical rainforest biome provides copious amounts of oxygen to the earth's atmosphere, and it removes massive amounts of carbon from it. All this is done through natural processes. If the tropical rainforest biome were to disappear, the planet would suffer from a lack of oxygen, especially because of the vast amounts of
carbon emissions
we are constantly surrounded by. We have gotten many gifts from the rainforest in the past, such as chocolate, medicine, rubber, and various others. Losing tropical rainforest biome is one of the biggest disasters that is happening to the world, and if it continues, there could be dire consequences for the whole planet.
A lot of the
deforestation
is done to gain rare and unique types of wood for sales of exclusive furniture. However, no kitchen cabinets are worth the destroying as much as one acre of the tropical rainforest biome. Ore is another reason for the deforestation, and miners try to get it from under the rainforest ground. The third reason for the tropical rainforest biome loss is farming. As the population grows, more and more land is required for agricultural purposes. Settlements located close to the rainforest will sometimes start using rainforest land for farming.
Tropical rainforest biome is very important for another reason. The way that rainforests normally work is they rely on trees to return moisture into the air. The rainforest takes in the rain it receives and gives it back to the atmosphere. This is kind of like a recycling process called evapotranspiration. However, with the deforestation underway as it currently is, it could become impossible for the rainforest to continue this process and sustain itself – it may be unable to thrive and regenerate fast enough in order to keep the balance of its unique ecosystem. All this could happen within a decade.
For the original article,
click here
.
For more information, go to:
en.wikipedia.org
20 Responses to "Losing the tropical forest biome: self-inflicted doom for man; updated article"
Leave a Reply