What projects are currently in place around the U.S. for converting municipal waste to energy? How is this conversion process accomplished and what have been the measureable beneficial outcomes?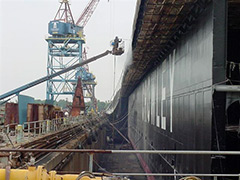 Municipal waste to renewable energy programs present a great way to turn discarded trash into a renewable source of energy, which can provide our homes with heat and electricity and be beneficial for the environment at the same time. When our waste is turned to energy, there is less space required in our
landfills,
which are already overfilled. Waste to renewable energy programs reduce the demand for harmful fossil fuels, because the energy received from these programs can be used instead. There are various municipal waste to energy programs currently running in the U.S., with the state of Kentucky alone generating enough energy from such programs to provide hundreds of thousands of homes with electricity every year.
There are two main ways in which waste to energy programs operate. Waste to energy facilities can burn the waste and use the released energy in order to create steam and heat, which is then converted to electricity. Most
waste to energy
facilities follow this procedure. The waste is sorted right away and recyclable materials are excluded. Even plastics and tires can be turned into energy, and other items like metal cans are put aside. Then the materials chosen for the burning will be put into the incinerator, and the energy released is captured in the form of steam, which creates electricity. The second way in which waste to energy programs operate is to collect methane gas, which the waste releases when it decomposes, but this is not as common.
Waste to energy plants on a commercial scale operate in the U.S., and they range in size from 200 to about 3,000 tons a day. The facility's processing capacity is a function of various technical considerations, such as the facility's capital and operating cost and the amount of waste left to be processed after recycling. They also depend on their long-term planning goals, such as domestic
alternative energy
source benefits, carbon footprint reduction, and stability of disposal costs.
For every converted ton of municipal waste, we can save a barrel of oil or 250 kilograms of coal. Every year in the U.S. there is almost 300 million tons of garbage sent to landfills. If all this waste was converted to energy instead, our dependence on oil could be reduced by 3-4 percent. This is equivalent to thousands of tons of coal and hundreds of thousands oil barrels.
Municipal waste to
renewable energy programs
also benefit the local economy directly and indirectly. Construction workers hired from the local area by the waste to energy facilities would receive paychecks amounting to millions of dollar annually. The indirect benefits of this are in the millions for the local area. Various goods and services that are construction-related would also be purchased locally, which would, in turn, boost the economy.
For the original article,
click here
For more information on waste to energy, go to:
en.wikipedia.org
,
scotland.gov.uk
7 Responses to "Converting Municipal Waste to Renewable Energy Source – Updated Article With Extra Information on Waste to Renewable Energy"
Leave a Reply
You must be logged in to post a comment.