Some updated information on the forms of solid municipal waste conversion to Electricity, along with the methods of avoiding and eliminating toxic byproducts.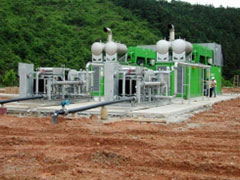 Millions of tons of solid municipal waste are created in many country across the world every day. This waste is then dumped onto landfills and left to decompose. This waste causes a lot of environmental as well as health problems. The problem deepens further when the landfills are overfilled and there is no more space for any kind of waste. By producing electricity from solid municipal waste this problem can be solved, and it provides an alternative way to produce electricity.
The heat emitted from industry is recognized as a form of solid municipal waste, and now it has being recognized as a means of producing electricity. Efforts are being made to generate electricity from this waste source. There are physicists who are busy finding ways to produce electricity from this heat.
Another way to generate electricity from solid municipal waste is by the method of Pyrolysis. A chamber with no oxygen is used in this method. Organic solid municipal waste is decomposed in the chamber at a very high temperature. The waste undergoes the process of gasification as well. When both of these methods, pyrolysis and gasification, take place together they make the process of producing electricity very cost effective and efficient.
Mass burn technology is the most widespread ay of producing electricity from solid municipal waste. The process is very simple. All you need to do is to burn all the municipal waste. It is astonishing that the most developed countries where millions of tons of waste is created everyday fail to utilize this method of electricity production. Japan has been using this method for quite sometime and has been very successful in solving the waste management problems in many of its most populated areas. Regarding the emmissions from the burning of trash - this is no longer a problem as plants have advanced cleaning technologies which take out the pollutants from the gases emitted into the atmosphere.
There is plenty of garbage on this planet. In fact there is so much garbage that many developed countries are dumping their country's waste in less developed countries in exchange for money, of course. They do this because their countries are extremely populated and they are unable to resolve the waste management issues. By using the abovementioned methods they can not only solve their waste management issues but also produce electricity in abundance. Waste to energy is undoubtebly one of the most important technologies of the future.
For the original article, go to,
click here
For more information on electricity from waste, go to:
en.wikipedia.org
,
www.powerscorecard.org
8 Responses to "Electricity Production from Solid Municipal Waste – Updated Article With Extra Information on Electricity From Waste"
Leave a Reply
You must be logged in to post a comment.