With this fungus just discovered to be present in the rainforest near Patagonia, how many other beneficial alternative fuel sources may be present in these areas? This fungus shows the importance of protecting the rainforests because there are still a great number of unknown plants, animals, fungi, bacteria, and other organisms that may have an enormous impact on alternative fuels that are very environmentally friendly. Protecting the rainforests from destruction should be a priority because they could hold vast secrets that have yet to be discovered.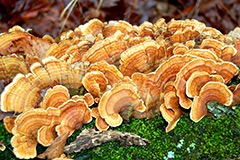 A type of tree fungus has been shown to be a new natural source for biodiesel fuel. This discovery may lead to further advancement in biofuel technology and help find a way to replace oil and other fossil fuels to end current dependence on foreign oil. It almost seems like science fiction, the fact that a fungus may turn out to be the answer to alternative and
renewable fuels
to replace oil. Biodiesel is a much more environmentally friendly fuel than gasoline, with less harmful sulfur and
carbon emissions
, as well as particulates. Vehicles that run on biodiesel do not pollute the air in significant amounts like traditional diesel does. The fungus responsible is called gliocladium roseum. This fungus produces hydrocarbons that are mid-length and are found in traditional diesel, gasoline, and
jet fuels
. That means this fungus produces hydrocarbons that can be used to manufacture biodiesel.
This does not mean that this fungus will allow us to say goodbye to oil and other fossil fuels overnight, however. Finding the fungus is just the first step in a long process to being able to use this fungus as a source to create biodiesel. With the right research and technology though, this fungus could become one of the answers to fuels for the future. The fungus was discovered on an ulmo tree, also called eucryphia cordifolia, and was located in South America near Patagonia. This fungus will only produce small amounts of the hydrocarbons, and only if the oxygen conditions are just right. This could be, though, the start of a new source for the
biodiesel production
in the future.
The tree fungus gliocladium roseum can be a key for researchers because this fungus will allow researchers to study it and engineer alternative microbes that will be much more efficient. The fungus contains several compounds that are found in diesel fuel. These include hexadecane, octane, 2-methyl, heptane, and 1-octene. This is the first time that these hydrocarbons have been found in a fungus like this, and it opens up a whole new world of possibilities concerning alternative fuels of the future. The fungus was found on trees that are present in the rainforest of Patagonia, and it has been heralded as a massive scientific discovery concerning alternative and eco-friendly fuels. The scientist who discovered the fungus has a name for any fuel derived from it: myco- diesel, because the fuel comes from a fungus and mycology is the word for the study of fungi.
Gliocladium roseum shows incredible promise, but much research still needs to be conducted before this source of hydrocarbons would be able to put a dent in our dependence and use of fossil fuels. This fungus does, however, provide a possibility for meeting our fuel needs at some point in the future. The fungus only produces the hydrocarbons when exposed to certain conditions, which are difficult to create outside the lab, but it is an arrow that will allow researchers to head in the right direction when it comes to new and unusual sources of biodiesel products.
18 Responses to "Biodiesel Tree Fungus – New Bio Fuel Source"
Leave a Reply
You must be logged in to post a comment.