Secondary look at hydroelectric power plants as a serious method for energy. Positives may outweigh the negatives, but cost is a key consideration.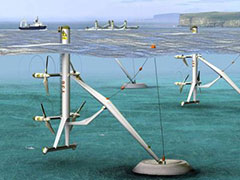 The generation of tidal wave energy is an entirely clean process. It does not involve the use of any greenhouse gases that lead to global warming. Some generators of tidal wave power work in a similar way to wind energy generators, and they are called tidal turbines. The generators of tidal wave power are placed off shore into a tidal stream, using a tidal turbine for tidal power generation. The water flow makes the turbine move, which generates energy. Tidal power generation has huge potential and it really is the future of alternative energy, which is just waiting to be tapped into.
Other ways of generating tidal wave energy exist as well. One of them is called tidal barrages. First, the tide has to reach the shore, where it flows through a one-way gate into a reservoir. Then the water is stored until the tide becomes low again, after which it is released back into the sea though turbines. The turbine rotation is what generates electricity, and is very similar to the way power is generated at
hydroelectric power plants
.
However, tidal power generation does come with its problems, and of course there are negatives that come with it. The first problem is with generating energy continuously. Secondly, even if such a project is implemented, it would be extremely costly to plan and build an entire plant for tidal power generation. This project could also take over a decade to complete. What this entails is a large monetary investment, which will see a return only after 10 years, or maybe even longer.
On the other hand, although
tidal barrages
require high capital start up funds, the cost of running them once they are built is very low. Although the tidal power generation system will probably not provide returns for a long time, once it does start to pay off, it will most likely continue to bring profits indefinitely. If you invest into sources of alternative energy like
tidal wave energy
, it will help you make money from reducing pollution and conserving the earth's resources for future generations.
It's important to understand that before investing into any
alternative energy source
, you should do the necessary research and understand how the technology used actually works. This can assist you choosing high quality solid investments. Of course, this by no means guarantees your investments in tidal wave power, but in general the odds are in your favor, since all sources of alternative energy will be used more and more in the future. If you invest in tidal power generation, future returns could be fantastic.
For the original article,
click here
For more information, go to:
en.wikipedia.org
,
en.wikipedia.org
16 Responses to "Tidal Wave Energy Generators – Updated Article With New Information"
Leave a Reply
You must be logged in to post a comment.