More detailed information on the positive effect of hydroelectric energy in turning around the effects of global warming.
With the ever increasing threat of runaway global warming (also termed as climate change) nations and individuals are looking into other sources of power and energy generation. When discussing alternative energy resources the technologies that are most heard of include solar energy, wind energy, geothermal energy and hydroelectricity. Out of all these energy resources most research has been done on hydroelectricity, solar energy and wind energy. The main advantage, and underlying reason for developing these technologies is to reduce or eliminate carbon emissions and greenhouse gases. This article discusses the advantages of hydroelectric power.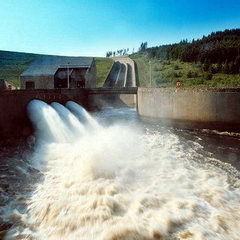 Hydroelectricity is one of the oldest forms of alternative energy. It was used centuries ago by the ancient Greek and Chinese civilizations. These civilizations used the force of the river and stream to run waterwheels which would then their turn their equipment such as the millstones. Hydroelectric plants of this day and age work in a similar way as these ancient civilizations. The only difference is that now hydroelectric power plants use rapidly flowing water to turn a turbine which in turn powers a generator which then produces electricity.
There are countless advantages of hydroelectric energy. The greatest of which, as mentioned earlier, is that it doesn't harm the earth in the way that oil or nuclear power plants do because it does not produce any toxic wastes or emissions.
Another obvious advantage of hydroelectric power is that a hydropower plant does not have to depend on fuel like oil, uranium or coal. Thus, completely eliminating the expense of buying a fuel source to generate power. A hydropower plant's fuel is effectively rapidly flowing river water, which is available in abundance and free of cost. Besides saving on the fuel expenses, a hydropower plant also saves on the people employed at the plant. Such a plant doesn't require many personnel to manage it, nor does it require a great number of specialists. Therefore, this saves a great deal of capital that would have otherwise been spent on operating the plant. These two factors help reduce the cost of generating electricity.
The power stations that are established within each plant are not very difficult to set up. This is because the size of the hydropower plant varies according to the size of the river or the stream. Even an individual can build his/her own small hydropower plant to power their home, all they need is the required capital investment and a stream or a river that is near to the home and flows throughout the year (a perennial river or stream).
Another great advantage of hydropower power is the useful life of a hydroelectric power plant, which last quite a bit longer than, for instance, a nuclear power plant (30-40 years).
For the original article,
click here
,
For more information on hydroelectric energy, go to:
en.wikipedia.org
,
www.energy.gov
16 Responses to "Advantages of Hydroelectric Energy as Alternative Energy Source – Updated Article With Extra Information"
Leave a Reply
You must be logged in to post a comment.