This may be a list of gifts for the holidays, but a
green gift
for any occasion is always an excellent choice! Giving a
green gift
is a way to reinforce your love of Mother Nature as well as the intended individual that will receive the gift. When you start thinking of green Christmas gift ideas for your loved ones and you want to promote environmental awareness, going green will also demonstrate that you are taking a stand for what you believe in. Depending on the person you are buying for there are many great
eco-friendly
gift ideas to choose from. If your loved one is purchasing a new home or into home decor you can select from a variety of
eco-friendly
home ideas as well. Below you will find some popular and environmentally sound
eco-friendly
gift ideas.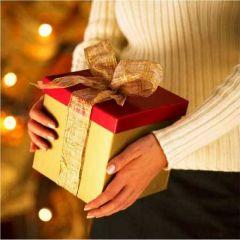 1.All natural fiber towels
All natural organic towels are some of the most absorbent towels on the market. They are comfortable and soft and are wonderful green Christmas gift ideas. If you are buying for a couple that just got married or recently moved into a new home, natural fiber towels are excellent
eco-friendly
home ideas.
2.Eco-friendly slippers
Vegan friendly mule slippers are some of the most comfortable slippers out there. It is no wonder that they are becoming so popular for men and women. These natural fiber slippers provide warmth, comfort and
eco-friendly
promotion.
3.Eco-friendly bath robes
Similar to
eco-friendly
slippers, bath robes are a great gift idea for the environmentally aware. Natural fiber robes are comfortable and lush. They are superb green Christmas gift ideas for the mother to be.
4.Reusable shopping totes
They may not be luxurious, but reusable shopping bags are practical. These bags are made from all natural materials like hemp and provide a lightweight and sturdy tote that can be used for just about anything from carrying groceries to packing a lunch in the park.
5.Household items made from recycled plastic
There are a variety of simple every day things that are now being made of mostly recycled plastic. In most of the cases, you have to read the label to even realize that it's recycled materials. They are beautifully constructed.
6.Instead of wood, go bamboo
Bamboo is the new wood that everyone is using. From gorgeous cutting boards to beautifully made bowls, these are closer to works of art than functional items.
7.Organic cotton
I don't think I have ever slept on anything so soft as the organic cotton sheets I received as a gift. In the package I thought they would be rough, but when I took them out and even after washing, they are as soft as 1,000 count thread standard sheets. Organic cotton is being used for all types of material items from curtains to bed linens.
You Can Use This Form to Leave Your Feedback or Ask Additional Question
You must be logged in to post a comment.