When the Ukraine began to investigate methods for energy conservation, they realized that leveraging their natural gas deposits would be a first step towards becoming free of their oil dependency. While this was a good start, there is much that needs to be done to make complete changes towards becoming a carbon free country.
When a country makes a decision to make drastic changes to accommodate their carbon footprint, it can and does shake up the entire functional process of the country. Considerations that need to be made include changes to their energy infrastructure and pricing. To achieve an energy revolution, they need to attract investors to alternative and renewable energy sources. The investments was show an excellent ROI potential with a complete visionary plan in place. The Ukraine has demonstrated the beginnings of a serious attitude toward energy conservation and there are a number of additional steps that they will need to make.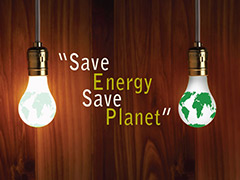 The International Energy Agency (IEA) has done an analysis on the Ukraine and offered recommendations to help move them to a progressive energy market. A first and most important suggestion is to encourage an offset of residential high costs through the combination of support measures via an increase in investments in energy efficient technologies and incentives that offer consumption reduction. To attract investors, the Ukraine will need to improve statistics and data collection so that they can monitor the progression towards benchmarks and target goals. They will need to lower gas consumption and strengthen their policies that are energy-efficient to ensure that supply while lowering the cost of energy. Making use of their renewable energy development, specifically their municipal waste and biogas for power generation.
Two of the controversial recommendations include maintaining their nuclear power plants and encouraging additional oil and natural gas production. These two suggestions may assist in keeping the Ukraine from depending on imported oil, but will not assist in reducing their carbon footprint.
Source:
http://www.iea.org/newsroomandevents/news/2012/october/name,32302,en.html
3 Responses to "Ukraine Preparing for Revolution in Energy Conservation"
MommaKnowsBest Says:


This is pretty good news for the Ukraine. They haven't ever been known as a progressive area, but it sounds like they are willing to take some rather drastic moves to improve their energy directions. The IEA seems to have their welfare at heart, but I am not real comfortable with them advising them to continue to import oil and relating it to any possibility of lowering their carbon footprint.

August 11th, 2013 at 8:50 pm
SayNoMore Says:


One of the biggest problems with a small country is that they definitely need investors and those guys need to see a really really good return on their money. Glad to see that there are places like the IEA that are helping to gather the information to attract an international investment group. They are going to need every bit of help they can get, but it will pay off

August 10th, 2013 at 1:44 pm
PrettySure Says:


There should be a lot more countries looking to reducing pollution and replacing their existing oil dependencies. A lot of the countries don't have well established infrastructures, or they are so old that it would cost too much to fix them. Investing in renewable energy is definitely the way to go.

August 9th, 2013 at 8:34 am
Leave a Reply
You must be logged in to post a comment.