Ocean thermal power plants may be the answer for future energy needs. The oceans covers thousands of square miles, and if you could catch all the thermal energy it can produce combined, that would be thousands of times more than all the electricity everyone in the entire world uses. This potential has been largely untapped until now, but there are a few companies that plan on changing this. There are a number of projects in various stages concerning thermal power plants using Ocean Thermal Energy Conversion. This technology also produces useful byproducts which can be sold, such as ammonia, methanol, hydrogen, and other industrial gases. OTEC technology does not harm the marine life or the environment, and it is both renewable and sustainable. This technology offers many benefits which make it a far better choice than oil or other fossil fuels. OTEC thermal power plants may be the answer to America's dependence on oil.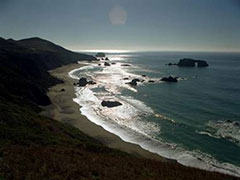 Renewable energy systems include ocean thermal power plants, in the form of Ocean Thermal Energy Conversion technology, also called OTEC for short. This technology represents enormous potential. The surface of the ocean catches sunlight, and as the water gets deeper it gets colder. The temperature difference between the cold water and the warm water is what creates the energy when it is done properly, but the water temperatures must be at least thirty eight degrees different for the process to be successful. Hawaii has been using OTEC technology for a while, with good results, but as of right now there are few ocean thermal power plants in operation, and these are too small to be really effective. Bigger thermal power plants need to be built, so that they are more effective and cost efficient. These power plants also produce fresh water from salt water as a byproduct of the ocean thermal energy conversion process.
Ocean Thermal Energy Conversion thermal power plants do not have all benefits with no risks. These plants, if built larger, may well change the temperature or the salinity of the surround water. This could cause many species to leave the area and disrupt the natural habitat and marine life of the area. Because there are not enough large thermal power plants operating to know what the long term effects would be, but so far the smaller plants in operation have not harmed the environment or natural habitat. This makes the OTEC technology eco-friendly as well as a sustainable and renewable energy system. Unlike oil and other fossil fuels, Ocean Thermal Energy Conversion plants will not drain anything from the earth, or e up all the resources. The ocean water goes through the cycle repeatedly, and this means an endless supply of energy.
There are three main types of systems used for OTEC, the closed system, the open system, and the hybrid system. In an open system, water is taken in from the ocean, goes through the Ocean Thermal Energy Conversion process, and is discharged back out into the ocean. This means a constant supply of water moving in and out of the thermal power plants. With a closed OTEC system, the loop is closed and water is not discharged into the ocean, but rather continuously cycles through the thermal power plants. Hybrid Ocean Thermal Energy Conversion thermal power plants use aspects from both closed system and open system processes and designs. This allows for greater flexibility.
16 Responses to "Effective Renewable Energy System – Ocean Thermal Power Plants!"
Leave a Reply
You must be logged in to post a comment.