Leasing solar panels is the latest way to go green and save money. The idea is really catching on in a number of states and is becoming more widely available all across the USA. There are different types of solar panels. Purchasing a new solar panel system for your home can mean very large initial expense. Some of these systems can cost between $25,000 and $50,000, or even more depending on the energy requirements of your home. Leasing solar panels allows you to use solar energy and protect the environment without having to pay enormous amounts of money up front. In many cases, the cost may be around $100 a month, but this will vary depending on your area and energy usage. The major decrease in cost of your utility bills is the best incentive.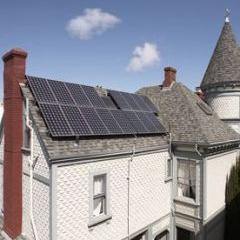 Leasing solar panels will often save you more on utilities than you spend on the monthly lease payment. When you go green and save money this way, maintenance is never a problem because the company you lease the solar panels from will usually take care of all the maintenance and installation for you. All you have to do is choose the types of solar panels you want to lease and make your payments on time. It really can be just that easy, and you will save money while using clean energy that does not pollute or harm the environment. Why buy and spend when you can lease and save instead? It also doesn't hurt to be getting all the benefits but none of the responsibilities and only at a fraction of the cost.
One Response to "Don't Want to Buy Solar Panels? Lease Them!"
Robin Frazier Says:


So this idea of leasing solar panel is a great idea, now who does the leasing? I haven't found anyone that does this.

April 4th, 2010 at 3:20 pm
Leave a Reply
You must be logged in to post a comment.