Evergreen Solar Inc is a company that can play a big role in investing in solar power and green investing; it may even be the company that helps save Massachusetts. Evergreen solar Inc announced that its plant in Fort Devens will be doubled in size and workforce. Currently, the company employs 350 people, and with the expansion planned, this number may rise to around 1,000. This would help employ many people in this state and give the economy a boost. Green investing options should include this company, because it appears to have a lot of potential when it comes to investing in solar power.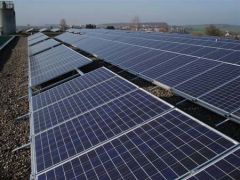 Evergreen Solar Inc has stated that the commitment made to the clean energy sector and specifically solar energy by Massachusetts governor Deval Patrick made the decision to expand an easy one. The goal of this state is to become a leader and innovator when it comes to alternative renewable energy. Expansion of the solar panel facility will help meet this goal. Solar energy will play a big role in meeting future power requirements because fossil fuels are becoming scarcer and are in limited supply. Expanding the solar panel manufacturing facilities will help meet the needs for these products and help Massachusetts thrive again.
Evergreen Solar Inc is a company to keep an eye on, and between this successful solar panel business and the goals for clean energy production the state of Massachusetts has set, the potential for future earnings with this investment choice may pay off.
Leave a Reply
You must be logged in to post a comment.