However, there is a bad news about carbon dioxide emissions. It has been discovered by some researchers that there is a connection between carbon dioxide emissions and human mortality. Released carbon dioxide increases air temperature and pollution, which leads to mortality in the proportion of 1,000 deaths (in United States) to a 1-degree Celsius increase in temperature.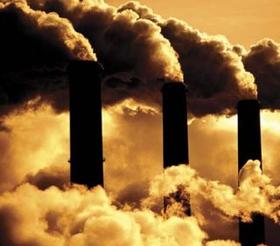 Carbon dioxide (CO
2
), under normal temperature and pressure conditions, is a gas. This gas abides in Earth's atmosphere. The concentration of CO
2
in the air changes slightly depending on the season. Its concentration in the air drops during spring and summer and increases in the fall and winter. This time or seasonal pattern of CO
2
concentration is in correlation with plants. In spring and summer plants consume the gas, while in fall and winter they lay dormant and decay.
Carbon dioxide has its integral part in the process of photosynthesis. By means of photosynthesis, plants produce sugars that they consume as an energy source, polysaccharides and other organic compounds.
The way in which this gas is generated is associated with volcanic activity, hot springs and geysers. Plus, burning fossil fuels produce this gas as a by-product. Carbon dioxide belongs to the
greenhouse gas category
.
Carbon dioxide was described as a substance separate from air in the 17th century by Flemish chemist Jan Baptist van Helmont. He was burning charcoal and noticed that the original mass of charcoal had been much larger than what remained after it was burnt. He concluded that the missing mass had been transmuted into a "gas".
In 1823, Humphry Davy and Michael Faraday managed to liquefy carbon dioxide by using elevated pressure.
Carbon dioxide gas is used in many industries and consumer products and it is particularly used in the food industry. For example, some candies are pressurized with carbon dioxide gas. The pressure used in this process amounts to 600 psi. When the candies dissolve in the mouth, a popping sound is produced. This process is also used to make dough rise by means of leavening agents. Although some gas is produced naturally in many alcoholic beverages such as wine and beer, some producers of these drinks add carbonate to them. In the form of dry ice, CO
2
is used for cooling grapes quickly, preventing a possible spontaneous fermentation.
Pneumatic systems also operate by means of compressed carbon dioxide gas. Some extinguishers designed to fight electrical fires are filled with carbon dioxide gas under pressure. It also can be used in welding and many other applications.
People affected by or prone to respiratory illness are on the top of the risk list. It has been known that carbon dioxide emissions influence global warming, but now it has also been linked to chemical and meteorological changes that can also lead to human death. It is important to notice that areas already affected by
global warming
have higher risk for pollution. It is considered that the most polluted cities in United States have a 30 percent higher level of additional mortality.
8 Responses to "Carbon emission effect on human mortality"
Leave a Reply
You must be logged in to post a comment.