Global warming is causing the glaciers and arctic ice cap that has been preserved for millions of years to melt faster, and this can affect many different ecosystems. The flow of colder water from the melting ice is flowing into the sea much faster, which can cool down the warm water flows that are necessary for tropical marine life. Tropical fish and animals may not be able to survive if the water temperature changes drastically, and marine life that can absorb carbon may do so increasingly and become threatened. The pristine lands and habitats that are around the melting ice can also be adversely affected.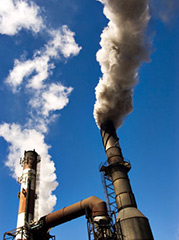 Greenhouse gases pose a very real and significant threat to the world ecosystems. Greenhouse gases are gases present in the atmosphere that have a
greenhouse effect
, trapping heat in the atmosphere and close to the surface of the earth rather than allowing the heat to go back into space. Emissions of greenhouse gases can be a result of burning fossil fuels, and also of the pollution of the air from many different chemicals. This causes the air in the atmosphere to stay warmer, and can have a big effect on all the ecosystems of the world.
Global warming due to increased greenhouse gases has already had a big impact on the earth and many of the ecosystems. The weather around the world is slowly warming, and tropical storms, devastating hurricanes, typhoons, and other severe weather patterns are on the rise. The climate and temperature of areas are changing, leading to an increase in unknown and unusual bacteria and viruses to be found. This can be a very serious problem, because viruses common in one area that could not thrive in another may suddenly find conditions more hospitable. This can lead to a global threat that is worldwide from diseases now only seen in remote areas.
The ocean is one ecosystem that is being affected greatly by greenhouse gases. Tropical storms and hurricanes, as well as some other weather related events, depend on warm water to draw energy from. As
global warming
from greenhouse gases affects the world ecosystems the ocean is one of those affected. Warmer water means an increase in tropical storms and worse, both in frequency and in intensity. Hurricanes and tropical storms need warm water to draw energy from, and global arming is providing this. Look at Hurricane Katrina, one of the worst displays of the true fury of mother nature in America and one of the most devastating hurricanes to ever reach the US. In the last ten years, storms that are more powerful have been occurring more frequently, and if greenhouse gases continue to contribute to global warming it will only get worse because of the damage done to the world ecosystems.
It is crucial that we try and slow down or eliminate the emission of greenhouse gases, so that there is no longer a threat to the world ecosystems from them. This means lowering and stopping our dependence on
fossil fuels
, because these fuels are mostly responsible for the greenhouse gases that are damaging the world ecosystems. Using alternative and renewable fuel sources instead of fossil fuels is the way to prevent global warming from becoming worse. By controlling and reducing the greenhouse gases that are released, by reducing the use of fuels which contribute to these gases, we can help preserve the world ecosystems and prevent them from suffering even more damage. This can be done by using biofuels and alternative energy sources whenever possible instead of using fossil fuels. This will keep the world ecosystems in great shape and prevent the emissions of large amounts of greenhouse gases.
8 Responses to "Greenhouse Gases – Threat to World Ecosystems"
Leave a Reply
You must be logged in to post a comment.