One of the most well known biodiesel race boats is named Earthrace, and this boat is attempting to race around the globe without causing any harmful emissions or pollution. This race boat was constructed specifically to avoid any damage to the earth at all, and only uses biodiesel fuel for power. This biodiesel race boat may be the race boat of the future. When biodiesel is used, everyone wins, including the environment.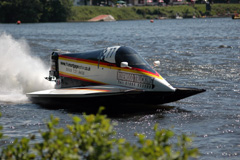 Biodiesel race boats are the latest effort to make powerboat racing more environmentally friendly and less harmful to the earth. Biodiesel powerboats have proven in the last few years that biodiesel fuel is just as effective as traditional diesel when it comes to power and performance. Many biodiesel race boats have won races, coming in first ahead of race boats that use fossil fuels. This puts to rest the myth that using biodiesel race boats will result in a lack of performance and cost green racers the finish line and trophy. Biodiesel is fuel created from biomass, instead of fossil fuels. Biodiesel offers many benefits to the environment and the racers.
Biodiesel fuel
is a much cleaner fuel, which means there are less harmful emissions, including both carbon and sulfur. Biodiesel also does not emit particulates, which are a main cause of
air pollution
and smog. Biodiesel reduces harmful emissions of all greenhouse gases and particles by around eighty percent. Biodiesel is not toxic, like traditional diesel and gasoline are. If any fuel is spilled, there are no harmful effects to the earth or people, making this fuel much safer.
Powerboat racing is not usually seen as an environmentally friendly pastime, but this changes when biodiesel is used to power the boats. Biodiesel race boats are very friendly to the earth and environment. Another benefit is that no conversion is normally required, because almost all diesel engines can use biodiesel with no problems. Biodiesel also benefits the boat owners and racers. Because this fuel burns much cleaner, less maintenance and repair work is needed. There is fewer unburned carbon deposits to cause problems with engine operation, and this means more time to race the boat instead of maintaining the boat.
Biodiesel race boats are the future of the powerboat racing industry. In addition, it is an environmentally friendly alternative that is renewable and does not use any fossil fuels or limited resources. Biodiesel does not have to be a threat to the food supply of the world either, because there are many plants that are not used as a source of food that can be used to create biodiesel. This biofuel does not harm the earth or any species on it, and offers an alternative energy source that is renewable and sustainable. For boat racing to continue, alternative fuel sources are going to be needed, and biodiesel race boats are the answer. Oil and other fossil fuels are limited, and they will eventually be depleted. By using biodiesel race boats, racing will not be affected when this happens.
Biodiesel race boats are winners in two separate and distinct ways. These race boats offer a
clean burning fuel
that does not hamper the power and performance of the boat, allowing it to still come in first and handle and react as it normally does. Biodiesel also makes the environment a winner, because this fuel is very friendly and does not cause any harm to our environment or contribute to
global warming
.
11 Responses to "Powerboat racing: the future with biodiesel"
Leave a Reply
You must be logged in to post a comment.