Where and how do mercury emissions appear? Mercury can be released into the air from mining ore deposits or by manufacturing plants. It can also be released from burning coal and various waste materials, volcanic activity or natural deposits. Fish contain methylmercury in their tissues. The older and larger a fish is, the more methylmercury it is likely to have.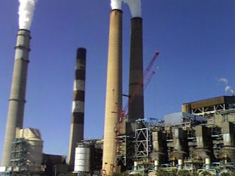 Mercury is a metal that has several forms. It is silver-white in color. It is also called quicksilver and its chemical symbol is Hg. When heated, it becomes an odorless gas. The ancient Chinese and Egyptians were familiar with mercury as well. During their time, people didn't know of the harmful effects of mercury. Instead, these ancient cultures thought just the opposite of the element. For example, China's emperor Qнn Sh? Huбng Dм drank mercury, thinking it would give him everlasting life. Other peoples used it in ointments and cosmetics, which resulted in skin deformations. Mercury can combine with chlorine, sulfur or oxygen, creating inorganic mercury compounds that look like powder or crystals. It combines with carbon as well, creating organic mercury compounds. Methylmercury is one of these compounds. Microscopic organisms produce methylmercury both in water and in soil. People use mercury for producing different products and industrial chemicals. For instance, mercury is often used in electronic applications and thermometers.
It's important to know about mercury in regards to health. First of all, the human nervous system is very vulnerable to mercury. If the brain is affected by mercury, then a person can develop a number of problems such as tremors, changes in vision or hearing, and memory problems. The most dangerous form of mercury is found in the vapors of methylmercury and metallic mercury, as these forms reach the brain easily. Vapors of mercury can also cause nausea, diarrhea, eye irritation and others. Young children are more vulnerable to mercury exposure. It can even get into breast milk, which is why it is very important for a woman who is pregnant to avoid any contact with mercury. Is it possible to be tested to find out levels of mercury in the body? Yes, it is possible. There are blood and urine tests that that measure mercury levels. If you think you might be affected by mercury, you need to consult your doctor, get tested, and have a sample sent to a laboratory as soon as possible.
Handle any products containing mercury with great care. These could be thermometers, medicines and fluorescent bulbs and others. Dispose of any products with mercury in a proper way. If it is spilled, don't try to vacuum it up as it will vaporize. The following are some federal government regulations regarding mercury. Drinking water can only contain a specified limit of mercury; two parts of mercury per one billion parts of water. In seafood, a limit of one part methylmercury per one million parts of seafood. Plus, there shouldn't be more mercury at a workplace than 0.1 milligrams of organic mercury per 0.1 mg/m3 of workplace air.
4 Responses to "Mercury Toxicity Adds to Air Pollution"
Leave a Reply
You must be logged in to post a comment.