Geothermal energy companies have great potential for the future


This renewable power source has many benefits, and few disadvantages


Geothermal power companies will play a role in meeting future energy demands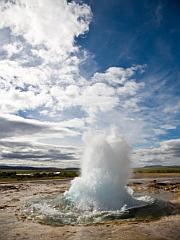 The future prospects for geothermal energy companies is looking brighter than ever, for a number of different reasons. These companies are one of the answers to the future of energy. Oil, coal, and natural gas are only available in a limited supply under the earth, and this supply is getting very low. This means that renewable alternative power sources, including geothermal energy, must replace fossil fuel use. There are a number of alternative power sources, like wind, solar, biomass, wave, tidal, and others, and in the future several of these may be utilized in combination, for a flexible energy grid that is both effective and efficient. Geothermal energy companies do face some challenges, even though the future looks bright, because these facilities have very specific requirements. The facility must be situated in an area where the tectonic plates of the earth are close to the surface, so that the heat which builds up can be released. The earth holds an incredible amount of heat, and tapping this can be a great way to provide needed energy. This source is renewable, because the earth is continuously generating high amounts of heat, and it has no negative environmental effects or pollution involved.
Wells are drilled by geothermal energy companies to evaluate and determine the potential an area has when it comes to providing heat or steam. The heat from the earth is used to create steam, which turns turbines to generate electricity. If the heat is not close enough to the surface because of overlapping or solid plates, this method will not work. In areas where volcanic activity is high these facilities may be ideal and extremely efficient, such as the Caribbean and the islands near the Ring of fire, a famous circle of underwater volcanoes and islands known for active volcanoes. As more research and development is done in this sector, geothermal energy companies will start to really take off. Much of the population of the United States, and the rest of the world, would prefer to use cleaner power that does not have such a negative impact, and this alternative power source is already becoming more popular in areas where it can be used effectively. More investors are looking at the alternative renewable power sector, including geothermal energy companies, and investments are starting to flow in. This allows for even more research, development, and implementation, so that this energy source is utilized in the most effective way when possible.
Geothermal energy is one of the leading options for meeting the growing power demands of the global population, and this source will be used along with other renewable sources as well. There is no one ideal energy source for the future, rather each area will have to determine the best possible types and methods for the local communities. Using geothermal power will make sense in some areas, while it will not be possible in others and another power generation method will need to be determined. These companies have a good chance of going big and staying there if they are managed and directed properly, and many people are starting to realize this. Fossil fuels will soon be a thing of the past, because of the harmful effects they have on the environment and the fact that they are becoming harder to locate and recover. Alternative renewable power companies will soon rise to the top, and big oil companies have started investing more money into these sectors to stay competitive and keep in the market. As the world turns to clean energy, geothermal energy companies will start to see the results, and benefit from this positive trend.
9 Responses to "Future Prospects for Geothermal Energy Companies"
Leave a Reply
You must be logged in to post a comment.