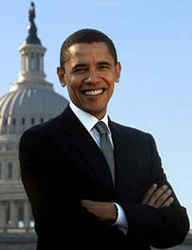 Obama's green plan on energy and the economy is based on change. Change in the way we as Americans produce and use energy, and change in the way global warming and the
ecological crisis
is heading. This plan calls for steps to improve both the economy and the environment through the use of alternative power sources instead of relying on fossil fuels like oil. Obama's green plan comes out greatly in favor of electric plug in cars, windfall taxes on big oil during times of windfall taxes, and a focus on an electrical grid that can move away from large power plants that are centralized and a big source of carbon emissions. This plan uses the cap and trade method to control damaging carbon emissions, which means that a company pays this tax according to how much they pollute the environment and contribute to global warming. This will force companies to lower their pollution levels or else pay for it. Once this starts to affect the bottom line of the business, pollution will become an issue and steps will be taken for pollution reduction.
Obama's green plan also includes the use of biofuels, such as ethanol. There is a catch though. The plan calls for the creation of biofuels using biomass material that is not part of the food supply, to maximize effectiveness while minimizing the impact that biofuels may have on the world food supply. Using crops like rapeseed, switchgrass, wood chips, and other cellulose materials that are not eaten or used to feed livestock can provide biofuel without taking any food out of the world supply. This is a positive step toward one specific goal of Obama's green plan, and that is to end the dependence on foreign oil, including oil from the middle east and Venezuela. By ending our
oil dependence
and turning to renewable and
sustainable energy
sources available domestically, we will strengthen the security and economy of the entire country.
Obama's green plan also offers incentives for car buyers to do the right thing. It involves initiatives and assistance for car makers both big and small to invest in electric plug in cars. Funds would be made available for the auto makers to use to switch over factories and start the production of eco-friendly
electric cars
or hybrid electric cars instead of the gas guzzlers that come out of Detroit now. Buying a new plug in electric car could get you back as much as seven thousand dollars in initiatives, just for doing the right thing and minimizing damage to the environment. Obama's green plan just proves to the American people, and maybe even the entire world, that he is one president who will be green, and take a stand for the environment and against big businesses who pollute.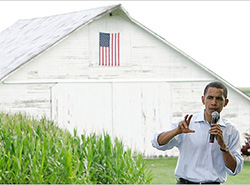 Obama's green plan is well thought out and very articulate. This plan not only covers the goals and expectations but also the budgets and funds that will be used to implement these methods, including where the money will come from. This shows that Obama is dedicated to protect the environment and the American people from the effects of global warming and pollution. Obama's green plan is a plan for a future America that is dependent on no other country or natural resource, and a country that is friendly to the environment with a strong economy. Unlike most plans, this is a plan that puts the environment and the common American on equal footing with big business and big oil, and one that will
reduce carbon emissions
, greenhouse gases, global warming, and air pollution.
7 Responses to "A Few Words about Obama's Green Plan for Energy and Economy"
Leave a Reply