Waste to energy technology provides a way to turn municipal solid waste into a source of energy to generate electricity. So, not only does it offer a solution to get rid of massive amounts of garbage we accumulate, but it can actually turn this garbage into something that can benefit the population immensely. Various waste to energy technologies exist today. There are chemical processes such as transesterification, used to produce biodiesel. There are also biochemical processes such as anaerobic digestion, resulting in chemical feedstocks, and fermentation, resulting in ethanol. Next, there are thermal processes such as pyrolysis, gasification, and incineration. All of these are processes of environmentally friendly waste disposal, since they produce no greenhouse gas or carbon emissions, which contribute to global warming, and are known to be harmful for the environment.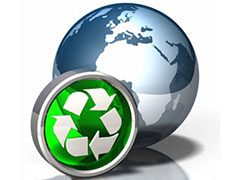 There is massive potential for growth in the industry of waste to energy technology, and the reason for this is simple. The world's population is on a constant rise, and so is the amount of garbage our population produces. This factor makes this environmentally friendly waste disposal method a very attractive investment opportunity. There are various waste to energy technology plants operating already, and this technology is not too complicated for investors to understand. This means that it is easier to make wise decisions regarding your investment. The waste industry has always been and will always be in high demand, because without it, waste is a population health hazard. Environmentally friendly waste disposal will only become more popular, as more and more people become concerned with the environment. So, waste to energy technology is bound to take up a big chunk of the market share. What this also means is a big potential for high investment returns.
There is a brand new waste to energy technology process that originated in Ottawa, Canada. It is called plasma gasification, and most municipal waste manager don't even know what it is yet. However, the president and CEO of Plasco Energy Group, Rod Bryden, is determined to get the word out. Plasma gasification is a process that produces steam, which, in turn, generates on-site electricity, and produces zero waste at the same time. Bryden says that there are so many benefits to plasma gasification that municipalities will be forced to learn more about it in the near future. First of all, this waste to energy technology produces no odor or emissions whatsoever, and it is completely quiet. Also, plasma gasification delivers power the electrical service system's distribution portion, which takes the burden off the public grid, which is already heavily used. So, Plasco's Coversion System facilities use household, municipal, and commercial waste to generate power that is completely green. They hope that other companies will follow their example.
For the original article,
click here
For more information, go to:
en.wikipedia.org
5 Responses to "Waste to Energy Technology – Environmentally Friendly Waste Disposal – Updated Article With a Look at Some Current Waste to Energy Projects."
Leave a Reply
You must be logged in to post a comment.