Some of the top polluting cars, also called gas guzzlers by many, are vehicles which do not get very good gas mileage and that give out a large amount of greenhouse gases and particulates which contribute to pollution. Alternative fuel vehicles are much cleaner, and do not pollute anywhere near the amount that fossil fuels do. For this reason you will not see any of these alternative options on any list of the top polluting cars. Another fact that may not be a big surprise is that sports cars and other high power vehicles are the worst when it comes to polluting the air and the environment. That is because raw power requires huge amounts of fuel, which causes large amounts of pollution.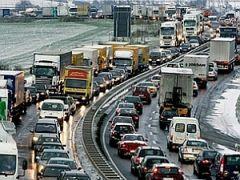 Some of the gas guzzlers which made the top polluting cars lists are no surprise. The Bugatti Veyron tops the lists, with massive amounts of carbon emissions. Another obvious pick is the Lamborghini Murcielago, in both the coupe and roadster models. These are no alternative fuel vehicles, that is obvious by the carbon emissions these vehicles give off. A trio of the top polluting cars is the Dodge Viper, the Ferrari California, and the Ferrari Scuderia. Others which made the top ten list for worst cars to the environment include the Hummer H2 and four of the models from Bentley, the Arnage, the Azure, the Continental, and the Brooklands. The Mercedes G500 is also included as a big polluter when it comes to carbon emissions as well.
2 Responses to "What are the Top Polluting Cars?"
Surrey Says:


I think that most Honda's are built really well, you can beat them. I agree with what your saying, to each his own.

July 25th, 2010 at 4:45 pm
Eda Deitrick Says:


That is the ideal web site for anyone who wishes to learn about this topic. You know much its pretty much tough to argue with you (not which i truly would want…HaHa). You absolutely set a new spin over a topic thats been composed about for years. Fantastic stuff, just wonderful!

July 24th, 2010 at 8:25 pm
You Can Use This Form to Leave Your Feedback or Ask Additional Question
You must be logged in to post a comment.