Research into alternative energy sources have discovered the use of methane gas. Experiments with this gas have led to questionable outcomes as a possible resource. If not handled properly, this natural gas could cause more harm than good.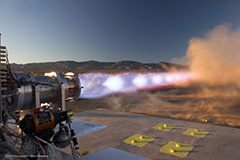 Methane is a common natural gas which has the molecular formula CH4. When methane is burnt, carbon dioxide and water are produced as byproducts. When mixed with oxygen, methane burns, and since it is quite clean and relatively abundant while burning, methane has become an attractive source of fuel. Its transportation can be a bit difficult though, because it is still a gas, and usually pipelines are used in order to transport it.
Methane gas energy can be used for producing electricity by burning it in steam boilers or gas turbines. Methane is piped into many homes, and is usually used for cooking appliances and heating systems. It is also possible to use methane for vehicle fuel, but before using it for this purpose, it must be compressed. This is thought to be much more environmentally friendly than diesel or petroleum fuels. Methane's energy content per cubic meter is 39 megajoules.
There are a lot of efforts currently being put forth to use methane gas in landfills as a source of alternative energy. It is quite easy to funnel landfill methane gas emissions and, as a result, power electrical turbines. For example, the city of Vancouver uses landfill methane gas for warming a year-round vegetable-growing greenhouse. Getting methane gas energy by burning it is doubly beneficial for the environment, because not only does the acquired electricity eliminate other polluting sources of energy (such as coal power plants, which currently supply 50 percent of U.S. power), but it also dramatically decreases its impact on climate change. When methane gas is burned, it is converted into water vapor and Carbon Dioxide, both of which have much less harmful effects on the environment.
According to the EPA, there are huge opportunities for methane projects in landfills. The Landfill Methane Outreach Program and its many officials in three states have confirmed this. As the search for renewable sources of energy intensifies, local, state, and federal governments are giving landfill methane gas a lot more attention. Private waste-management and energy companies, energy entrepreneurs, and landfill owners are all interested in such projects.
The EPA continues to say that if methane is not burned or captured, it turns into an extremely harmful greenhouse gas, which has at least 20 times the intensity of CO2 (which is the primary greenhouse gas), as it goes up into the atmosphere. The EPA also came up with an estimate that 25 percent of human-linked methane releases come from landfills. So, the conclusion is that capturing landfill methane gas and active, as well as former landfills has enormous benefit for the world and the environment and is a renewable energy niche that has yet to be fully explored.
For the original article,
click here
For more information on methane gas, go to:
en.wikipedia.org
,
www.epa.gov
25 Responses to "The dangers of handling methane gas the wrong way: updated article"
Leave a Reply
You must be logged in to post a comment.