As Americans, we consider ourselves to be a land of plenty. We are the breadbasket of the world with billions of dollars given to poor and third world countries. It might come as a surprise to some that we actually have areas of the country called food deserts, where our own citizens don't have access to fresh food and experience an actual food shortage.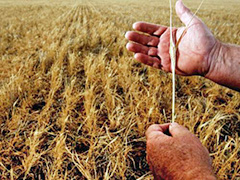 The definition of a food desert is any area where a significant number of people reside more than a mile away from a grocery store in an urban community and in a rural community more than ten miles away from a grocery store. In some cases, it includes lower income areas where a majority of the population don't have access to transportation and/or reside 20 miles from a grocery store. The USDA has created an interactive Food Access Research Atlas Map that highlights by color, which communities in America fall under these definitions. They have used a combination of census information along with supermarket and retail food statistics to create a map that offers a variety of detail choices for food access around the country. The interactive part, allows the user to create a more in-depth map of specific areas, based on the criteria available for the community.
The first thing that you notice when you look at this map, is the amount of color coded areas that display those people that reside more than ten miles from a supermarket. A majority of the large coded areas appear to be West of The Rocky Mountains, with the Midwest and East Coast offering a speckling of smaller communities that fall into this description. You have the ability to select specific layer indicators to show each specific level, based on the criteria you are seeking. The green display shows the original food desert guidelines, which are one to ten miles from food access. Gold is .5 to ten miles to food access. Red is one to twenty miles and yellow is lacking vehicle access to food.
The surprising part about this map is that you would expect the layers to offer major geographic changes as you select each layer; however, the changes are not as major as you would think. Viewing this map, you get a real clear idea that our country has significant areas , both urban and rural, who not only experience an inability to lack access to fresh food but fall under the definition of food shortage. In the wide open west, where communities are often many miles apart, it isn't surprising to see shading display a lack of food access for miles; but these are also some of the areas that include the farming communities and that in itself is a shock. One would also assume that the most lucrative states in the country would have smaller shaded areas of each layer. While this is somewhat true, it is surprising and scary to see that very few states are completely clear of any color coding. If the map does anything, it brings a shock of reality that we, as a country, have many people that may be going hungry.
Sources:
http://grist.org/list/this-sobering-map-shows-you-all-of-americas-food-deserts/
5 Responses to "Food Shortages in America: The Scary Facts about U.S. Food Deserts"
Leave a Reply
You must be logged in to post a comment.