Electricity generating speed bumps which use kinetic energy as renewable energy have made the news in places lately, and these devices which are capable of generating green electricity have been tried out in a few locations. The real question is do these electricity generating speed bumps work as planned? A Burger King in New Jersey was one of the first trial locations where these devices were tried out, and a light bulb was attached to show that electricity was being generated. These devices show great promise, especially for businesses and locations where there is a lot of vehicle traffic. The time when this method of generating green electricity will provide substantial amounts of power is not close just yet though. Storage is a problem which is still being researched, and the devices may need more fine tuning using technology advancements to make them more efficient.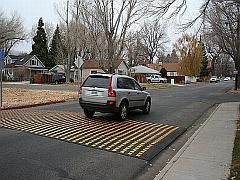 Electricity generating speed bumps are not a practical solution yet, and right now these devices are more of a novelty. In time though this may change, as kinetic energy as renewable energy becomes more advanced and new materials and processes are created. Electricity generating speed bumps are also called MotionPower Energy Harvesters, and they are not like normal speed bumps at all. It is a flattened device which has thin pedals which cover the top of the bump. When the pedals are pushed down by the vehicle, gears turn inside the device. A vehicle which is going at a speed of roughly five miles per hour can be responsible for generating green electricity at around two thousand watts.
One Response to "Could Electricity Generating Speed Bumps Work?"
magnetic motor Says:


Awesome article! thanks for the good read!

September 6th, 2010 at 3:25 am
Leave a Reply
You must be logged in to post a comment.