The use of biomass boilers in Indiana has shown that the state can go green and save money. These boilers will use biomass fuel and will be placed in four of the prisons in the state.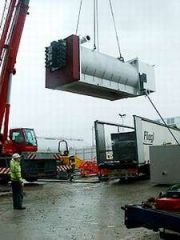 According to the Indiana Department of Corrections, the first of the biomass boilers in Indiana was placed in the Pendleton Correctional Facility. When all four of these alternative energy systems are in place, it is estimated that the state will save more than $36 million over a 10-year time period. This just shows hat it is possible to go green and save money, and that biomass fuel used is extremely inexpensive. The state has agreed to buy used wood scraps and pieces from businesses in the local communities where the biomass boilers are used, and this is what will fuel the boilers in the prisons. There are no fossil fuels used and the costs of heating the prison facilities are lowered at the same time.
Biomass boilers in Indiana are starting in four prisons, but if the cost savings that are estimated actually occur, many businesses in the state may take this green option as well. The four prisons in Indiana involved in the initial stages of this energy conservation and cost control project are Pendleton Correctional Facility, Indiana State Prison, Westville Correctional Facility and Plainfield Correctional Facility. Using biofuels can make a big difference to the environment and the state of Indiana is one of the first to be willing to prove that these biomass boilers can help save money.
You Can Use This Form to Leave Your Feedback or Ask Additional Question
You must be logged in to post a comment.