A wood pellet furnace can be a great way to heat your home using wood pellet fuel, a biomass which is much cleaner than gas, oil, or coal, and can be much more effective and efficient as well. Pellet heat does not pollute or contribute to smog and poor air quality, and this fuel is usually less expensive than the traditional fuels used. A wood pellet furnace has many advantages over traditional furnaces, but is it a safe and environmentally friendly alternative when it comes to central heating? The answer to this is a definite yes. With the cost of heating oil and natural gas on the rise, and given the fact that these limited fossil fuels are going to become even more scarce in the future, using wood pellet fuel just makes more sense to many people. This fuel is renewable, it is friendly to the earth, it saves you money, and it is very effective.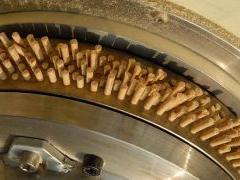 A wood pellet furnace can replace your old central heating unit, or it can be installed in addition to existing appliances. Installing these appliances can be done in a couple of ways. A wood pellet furnace can be installed inside your home, or it can be installed outside where the biomass materials are stored. Both methods offer benefits and may have a few drawbacks, but they are both very effective and efficient at keeping your home warm without high heating costs and large amounts of pollution and greenhouse gases being released. Some wood pellet appliances may be flexible and allow you to use other forms of biomass as well, such as corn and other grains.
2 Responses to "Wood Pellet Furnace as Alternative to Central Heating"
WWE Says:


Hello, Great job on the website, it looks great. I am going to save it and will make sure to visit often

September 4th, 2010 at 11:45 am
Breitling watches Says:


Nice information, many thanks to the author. It is incomprehensible to me now, but in general, the usefulness and significance is overwhelming. Thanks again and good luck!

August 26th, 2010 at 4:08 am
Leave a Reply
You must be logged in to post a comment.