Knowing what to look for when buying solar panels can be an important aspect of shopping for solar panels for electricity generation. Photovoltaic solar panels are used to generate green electricity from the power of the sun, and there are some things that you should look for, and some things that should be avoided. The first thing that you should look at is the minimum warranted power rating, and you should always look at the spec sheets to get this information. A negative tolerance rating may actually reduce the power generated, so look for the lowest possible negative tolerance rating when purchasing solar panels for electricity generation. This means photovoltaic solar panels with a two hundred watt capability but a negative tolerance rating of five percent will only supply one hundred and ninety five watts of power, and not the two hundred watts that it appears to be.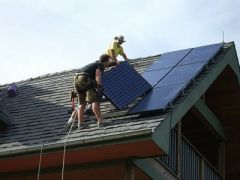 Understanding what to look for when buying solar panels can help you get the best possible products and avoid costly mistakes. A PTC rating is a number that should be as high as possible with solar panels for electricity generation, and this number means a more effective operation. Another hint on what to look for when you are buying solar panels is the warranty. Photovoltaic solar panels can last for many years, with some products stating a life of thirty to forty years or more. A warranty should last for at least five years, and the longer the warranty is the more a product should be considered. A long warranty shows a quality product. Installation hardware is also important, because some mounting accessories are very lightweight and may not be strong enough to hold and protect the panels properly.
Leave a Reply
You must be logged in to post a comment.