A zoo in Denmark has drawn up plans to alleviate many of the problems routinely cited by activists when calling for the abolishment of zoos. Assuming it goes forth with all of the different projects it has planned, Givskud Zoo will be the world's most progressive and advanced zoo in just a few more years.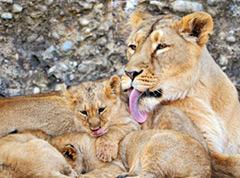 The mission statement of the zoo focuses on creating the "freest" environment for the animals, while making their relationship with their surroundings and the visitors as harmonious as possible.
Givskud primarily hopes to accomplish this by eliminating cages entirely. Instead of metal bars, natural changes in the environment, such as waterways, rocks, and different landscape elevations, will dictate where the animals can and cannot go.
Additionally, visitors will be allowed to observe the animals in ways that do not intrude upon the space of the animals, and often times conceal from the animals that they are being observed at all. Zip lines will be one method of doing this. Another method is the incorporation of unique mirrored pods inside of which visitors will travel downriver, observing elephants and other creatures on their way, all without being seen.
While some are still skeptical that the zoo faces challenges if it plans to operate on a profit-based business strategy, others are optimistic that Givskud Zoo might just revolutionize the very concept of a zoo, especially if it begins to transform into something more like a sanctuary. Givskud hopes to implement these innovations by its 50
anniversary in 2019.

Source: http://www.huffingtonpost.com/2014/08/01/denmark-zoo_n_5642397.html?utm_hp_ref=green