Municipal solid waste management can be done a number of ways. Traditional landfill methods can be used, municipal solid waste recycling can be done, or the waste can be turned into energy by being incinerated. MSW is produced locally, and does not need to travel far. These plants can be set up close to every city, or several rural areas, making it easy to turn community garbage into community energy. This energy uses a domestic source, so there are no large fluctuations in price simply because a new dictator took over an oil producing country somewhere in the world, and is now using their fossil fuels to hold the world economy hostage. There is an abundance of municipal solid waste in garbage dumps and landfills around the world to power the entire population for years without ever creating any more garbage. Municipal solid waste to energy plants can help get rid of garbage, so we can start bringing the world back instead of destroying it.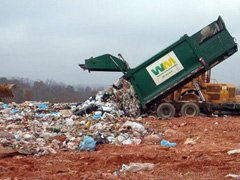 Municipal solid waste energy plants turn MSW, or trash, into energy including electricity.


There are a number of ways that municipal solid waste management is important.


Municipal solid waste recycling is very environmentally friendly.


With municipal solid waste energy, society receives a double benefit. Municipal solid waste management means finding ways to eliminate millions of tons of municipal solid waste, often called MSW, each and every year. Global warming and the state of the environment means that we have to find a source of energy which does not rely on fossil fuels like oil and natural gas. The world is dependent on electricity and could not operate without it, and municipal solid waste recycling and using this trash for energy makes sense because it solves both of the problems with one solution.
Municipal solid waste energy plants can use either mass burn technology or refuse derived fuel technology. Mass burn is the method that is used most frequently, and in this process all of the MSW is combusted. In refuse derived fuel plants the waste is sorted before being combusted, so that certain recyclables like metals are removed before the waste is burned. This takes advantage of municipal solid waste recycling, so that fewer resources are used to replace these materials. Without waste to energy plants and programs, our already overflowing landfills would take up even more space. Americans contribute millions of tons of household garbage to the municipal waste stream, and we are running out of landfills to use. Transforming solid municipal waste into energy that can be used to light our homes just makes sense.
Municipal solid waste management is crucial, because people will continue to create garbage and trash. In this sense municipal solid waste is a renewable form of alternative energy, one which is much more environmentally friendly than using fossil fuels. If the waste was not removed and taken care of, cities would become overrun with waste, rodents, insects, and germs. Waste to energy takes things that are already discarded, and turns these into electricity and energy that is much needed. This benefits society and the world twice, once when the garbage is removed and does not end up in a landfill polluting the earth and taking up space, and the second benefit is a source of energy that is cleaner and more eco-friendly than fossil fuels, with less pollution and contribution to global warming and greenhouse gas emissions.
Municipal solid waste energy is the future of both municipal solid waste management and alternative energy sources which are eco friendly and meet the energy needs of the world. This source of alternative energy may very well be the main energy source of the future. It combines one solution to meet a number of different needs, and the entire process is simple and easy to understand.
4 Responses to "Municipal Solid Waste Energy: Society's Double Benefit"
Leave a Reply
You must be logged in to post a comment.