An exciting and undoubtedly progressive new focus will dominate this year's International Automobile Exhibition (IAA) in Frankfurt, Germany. Running for more than a week and occupying more than 12 buildings, this is the crème de la crème of all auto shows in the world. Previous exhibitions were preoccupied with lowering fuel consumption, reducing carbon emissions, etc. But this year, the IAA is all about cars becoming smarter and safer as mobile communication platforms, and perhaps more importantly, as electric mobile communication platforms.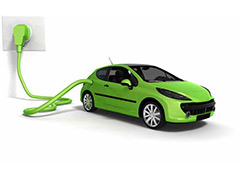 Matthias Wissmann, president of the German Association of the Automotive Industry, seemed almost giddy as he addressed the media on Monday, September 9th – the first press day of the exhibition.
"The progress achieved by the German automotive industry in reducing the classical pollutants, CO2 and fuel consumption is impressive," said Wissmann, "Measured against the year 2000, we have brought down particulate emissions by 94 percent. Our cars are therefore often cleaner than the ambient air!"
"Today we have 434 models on offer emitting less than 120 grams of CO2," he continued,"Our portfolio of these CO2 champions has expanded by almost 70 percent compared with last year!"
However, as Wissmann boasted about the German auto industry's milestones, he clearly noted that there was no room or time for complacency. Thus far, the triumphs have been in optimizing the old and tired combustion engine technology by either turbocharging or utilizinglighter car bodies, smaller engine capacities or fewer cylinders. In other words, everything that can be done with diesel and petrol engines has been done, and furthermore, meeting the 95 gram CO2 target planned for 2020 is only possible if electric cars are widely accessible and embraced by consumers in large quantity.
Electric and connected cars are no longer the stuff of science fiction. They already exist in small pockets and several forms including pure battery, plug-in hybrids, and fuel-cell vehicles. The technology doesn't have to leap that much further to become viable. In fact, German manufacturers alone will launch 16 series models with electric drive onto the market by the end of 2014.
According to Environment News Service (an International Daily Newswire), "The Frankfurt Motor Show opens to the public on September 12 and runs through September 22 at the Fairground of Messe Frankfurt.Electric mobility and connectivity are visible at the exhibitors' stands and will be covered in detail at two individual one-day symposia at the show."
Source:
http://ens-newswire.com/2013/09/10/electrified-cars-hot-topic-at-worlds-largest-motor-show/