The city of Venice, Italy, is turning the idea of an algae power plant from a myth to a reality


Algae is one of the most promising alternative renewable energy sources available


Algae is produced much faster than other biomass feedstocks, and the production process can eliminate any carbon release into the atmosphere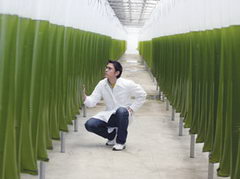 There has been a lot of talk and news about the possibility of an algae power plant, and now what once was only considered a myth is a plan in motion. Algae has a lot of promise as a source of energy and power, and one country is taking a big step by planning a facility that generates power from this rapidly growing alternative renewable energy source. When it comes to producing environmentally friendly energy, algae shows some of the best possibilities, and recent research has shown it can be used for biofuels as well as electricity and other forms of energy. There are many benefits to using this power source instead of fossil fuels or other alternative energy options, and some of the benefits may be a surprise to a lot of people. Algae as a source of energy does not harm the environment, and it eliminates the need for food crops such as corn and soybeans to be used for biofuels. In addition, it is a plant, which means that carbon is removed from the air and used, and oxygen is released instead. Some strains of algae are very high in oils, and can grow at a very rapid pace. They can be harvested daily, because the amount of plant material can be increased to double in a single night. Half of this energy source is oil, while with oil palm trees only twenty percent of them are oil.
The very first algae power plant is being planned in Venice, Italy, and the city has plans to provide close to half of the energy needed with this alternative renewable energy source. The days of ignoring the high costs of fossil fuel dependence around the globe are gone, and it is no longer possible to ignore alternative energy sources. Crude oil reserves are getting harder to find and recover, and the damage fossil fuels have done to the earth can not be overlooked or ignored any more. Renewable alternatives must be found, and algae is one of these alternatives that may very well be the answer to replacing fossil fuel use with a green environmentally friendly option. Venice has always been known as a city that cares about the earth and the environment, and the benefits that algae as an energy source can provide proves this fact once again. The first algae power plant in the world will be built and operated in Venice, and this city may very well show the rest of the world including America how oil dependency can be eliminated.
There has been talk of using algae as an alternative source of power for a while, and this idea is not new. The Department of Energy in the US first started looking at this idea in the 1950s, but that was as far as it went. In the USA a bigger effort to switch from fossil fuels is hampered by all the money large oil companies pay for lobbying in Washington, but Venice does not have this constraint. The new algae power plant under development and construction will be in Europe, and this may be the beginning of the end for fossil fuel use and dependence. Once countries and people around the world see that using algae for energy is possible, and that the myth has become a reality, the demand for more of these green power plants will go up significantly. Algae is the perfect renewable energy source, one that is fast to grow and that can be designed so that the entire process is carbon neutral. No greenhouse gas emissions means that this facility will not damage the ozone layer, and the entire growing and production process can be very efficient and cost effective.
You Can Use This Form to Leave Your Feedback or Ask Additional Question
You must be logged in to post a comment.