Maybe you already knew this one, but right now in the North Pacific Subtropical Gyre the ratio of plastic to plankton is 6 to 1. This poses a great threat to the marine wildlife all over the Pacific Ocean, and not just in one specific concentrated area.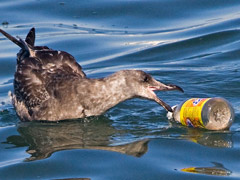 I'm sure by now you've heard of the Pacific Ocean garbage patch, and a variety of "facts" that surround it. If you haven't, let's briefly describe what is usually meant by the garbage patch in the Pacific Ocean.
A 'garbage island' in the middle of the Pacific?
The Pacific Ocean garbage patch has often been referred to as an island that consists entirely of trash, which is about twice the size of the state of Texas and located somewhere in the middle of the Pacific. The trash is a very thick layer that you can barely get through on a boat. And if we don't do anything, it will only keep getting bigger and bigger until we might as well walk on garbage across the Pacific. How true is all this? Here are 4 secrets that may surprise you about the garbage patch in the Pacific Ocean:
1) It's not an island!
Click here to continue reading
Leave a Reply
You must be logged in to post a comment.