Tidal wave generators are underwater turbines which can generate electricity from tidal currents


The tides can be very powerful, and contain large amounts of energy that can be harnesses


Tidal wave generators are a safe and clean alternative to fossil fuel use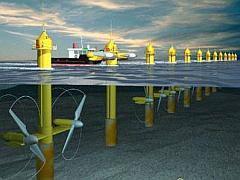 Tidal wave generators are also known as tidal turbines, and the technology used is very similar to that used with wind power. There are some differences, because the turbines must be much heavier to withstand the weight of the water and must be built very strongly, because severe weather can cause extremely rough seas. Tidal wave generators are placed underwater directly into the flow of the tide, and the flowing water causes the turbine blades to turn. This in turn generates electricity, which can be used for many purposes, including powering homes and businesses. These turbines are placed in the tidal currents under the ocean surface, and these tides can be very strong even when the weather is calm. During rough weather the energy generated can be significantly more, but these conditions can also be much harder on the turbines. Because water has a much higher density than air, more power can be generated with a smaller unit. America has a number of ideal places where these generators can be located for the maximum benefits, and there is no pollution or greenhouse gas emissions released to harm the air or environment. This does not mean that there are no drawbacks to using this technology though.
Tidal wave generators are considered very environmentally friendly because there are no emissions or fossil fuels used, but these machines can have an impact on the marine life in the area. Some sites being evaluated and tested around the world have shown various effects, so these turbines should be placed where they will have the least effect on marine life and the underwater habitat. Fish and other marine animals may get caught up in the equipment, especially when the tidal current is moving fast or the turbines are placed closely. Newer technology has been able to minimize this impact, but these machines should be placed in areas where there are not large numbers of marine life when possible. Tidal wave generators and the power facilities they supply around the world use monitoring equipment to ensure that the fish and other marine life in the area are not harmed in large numbers. American has over twelve thousand miles of coastal lands, some of this that could be ideal for tidal wave generators. The country of France has a power plant which uses this technology, and this plant has operated safely and efficiently for more than thirty years now providing electricity. This proves that the technology does work, and it is an environmentally friendly option for replacing fossil fuel use.
Tidal wave generators are just one type of ocean energy generation that is being considered by countries around the globe. This technology has been used in different ways through history, and has been shown to be clean and effective. The location of these facilities must be considered carefully, because tidal currents are needed to turn the turbines, and the best locations are where these currents flow very rapidly. Nova Scotia and other areas like it are ideal, because there are a number of powerful tides that go through the ocean off the coast. This allows for optimum circumstances and significant electricity generation. Tidal wave generators can provide one answer to the future of energy, but this will not be the only solution. These energy devices will be used alongside other alternative renewable energy sources. In the future, the energy grid will be very flexible, and accept power from a number of green sources, including the tides. This will allow for an end to foreign oil and fossil fuel dependence, and provide the energy needed without causing environmental damage or polluting the planet.
6 Responses to "Tidal Wave Generators Review"
Leave a Reply
You must be logged in to post a comment.