Tidal wave energy has seen a number of advances and developments in the last few years.


This power source is being considered as a substantial part of meeting future energy needs.


New devices and processes are being discovered which make it easier and cheaper to utilize tidal wave energy.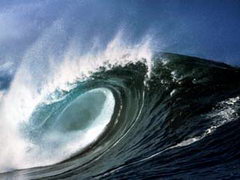 Tidal wave energy shows great promise, and new technologies are becoming available which can make this renewable alternative energy source more efficient and effective at replacing fossil fuels, and keeping the environment clean. More companies are investing in tidal wave research and development, for a number of reasons. Environmentally friendly power sources which are clean and do not cause pollution or environmental harm are the key to the future, and there is more time and money being invested in these areas. Water that flows carries a great deal of energy, and the tides do not have to be extremely strong for this power to be harnessed and used. Advancements in technology have resulted in many new products and methods being considered and evaluated concerning these alternative power sources and generation methods. One drawback to this sector, and some of the older technology used, is that the fish and marine wildlife can be disturbed or harmed in some cases, so constant monitoring of the underwater environment is needed to ensure this does not happen. Tidal turbines can kill fish and other species if they get caught up in the equipment, and this can change the underwater ecosystem, so newer methods and equipment are being developed to minimize these impacts and protect the current habitat and marine life.
One advancement in tidal wave technology is being tested in the United Kingdom, and the product is called the Anaconda. This device is similar to a large rubber snake which can harness tidal wave energy and convert it to electricity. Early test results show that one device using this new technology could be capable of providing electricity and power to at least one thousand homes and businesses. The big rubber tube is filled completely with fresh water before the ends are sealed, so that none of the fish or other sea creatures decide to make the device home and move in. Tidal wave energy can be a very efficient source of power, so that fossil fuels are preserved and there is no future energy crisis. The Anaconda is a device which utilizes the newest technology available to make tidal wave energy more viable than ever, especially when it comes to providing large amounts of power in an eco-friendly way. This new technology makes significant advances in harnessing power from the tides and the ocean, and further developments can only improve these advances and make this renewable power source even more attractive.
Another advancement in tidal wave energy that was developed by companies concerns the rotation ability of the underwater tidal turbines. One of the disadvantages of these turbines is normally that they can only capture tidal energy from one direction, so that when the tide reverses the power is not captured, and is lost instead. New equipment introduced can eliminate much of this problem, because the mounting system uses a swivel. This allows the machine to swivel around and catch the tide even after it reverses. This technology allows double the tidal wave energy to be captured without increasing costs or requiring more equipment. More investments are being made in alternative energy companies, and this includes the power which can be derived from the tides and ocean. Further development has also allowed the materials used in the equipment to be the lightest and strongest possible, so that the severe weather and sea conditions do not pose as large of a threat. The ocean tides offer vast potential for the energy needed by mankind, and this sector has seen advancements in technology that make this process more cost effective and efficient, as well as environmentally friendly.
One Response to "Tidal Wave Energy: New cutting edge technologies"
Sarah Palin Says:


Usually I do not post on blogs, but I would like to say that this article really forced me to do so! Thanks, really nice article.

July 24th, 2010 at 6:43 pm
Leave a Reply
You must be logged in to post a comment.