To prove the power of a good blog, June 12, 2014 saw Tesla CEO Elon Musk post a short and sweet blog post that may end up revolutionizing the auto industry. The post was titled "All Our Patent Are Belong To You" in a sly techno-geek reference to "All Your Base Are Belong To Us" from the 1989 video game Zero Wing.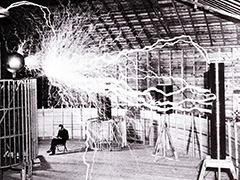 Regardless, Musk essentially gave up his patents in a sort of altruistic Jerry Maguire-type epiphany writing, "Tesla Motors was created to accelerate the advent of sustainable transport. If we clear a path to the creation of compelling electric vehicles, but then lay intellectual property landmines behind us to inhibit others, we are acting in a manner contrary to that goal. Tesla will not initiate patent lawsuits against anyone who, in good faith, wants to use our technology."
Tesla's competitors can now freely take advantage of its electric vehicle batteries, chargers, or sunroofs, but Musk seemed perfectly content with the implications writing, "We believe that Tesla, other companies making electric cars, and the world would all benefit from a common, rapidly-evolving technology platform.
Technology leadership is not defined by patents, which history has repeatedly shown to be small protection indeed against a determined competitor, but rather by the ability of a company to attract and motivate the world's most talented engineers. We believe that applying the open source philosophy to our patents will strengthen rather than diminish Tesla's position in this regard."
Sure, Tesla needs something here too. They want bigger companies to implement his proven product so charging stations and batteries become the norm. They need standardization. In fact, we all need it.
A standardized electric car industry will ultimately force the bailed-out juggernaut companies that monopolize auto production to participate again—to actually give the consumers what they want in a greener set of choices (while somehow taking a chunk of the credit and chalking it up to good ole' American innovation).
Tesla's bold move, as many are calling it, demonstrates the true essence of capitalism, you know, before it got hijacked by corporations and neo-conservatives. Such a surge in electric vehicles and electric vehicle part accessibility could invigorate the industry in a way that creates another golden era of guilt-free road travel around the nation. The growing middle class of hipster Libertarian/Independents are already all aflutter over the news … and rightly so.
Perhaps another blogger named Nicholas Thompson summed it up best in his piece entitled, "Who Shared the Electric Car?" on The New Yorker's website:
"If Tesla can keep hiring and retaining engineers who are smarter than everyone else's, imitation won't really matter. By the time that a competitor has copied the sunroof, the Tesla folks will have built something better."
And a lot of people are waiting with bated breath for that "something better." Many think it will be a step toward the kind of space travel that will allow us to rescue ourselves from the mess we've made of Earth.
Source:
http://www.newyorker.com/online/blogs/currency/2014/06/elon-musk-shares-tesla-patents.html