Additional research and contributions from other universities around the world Confirm original Rutgers University study. More in depth information including viability of production, cost, byproducts and environmental impact.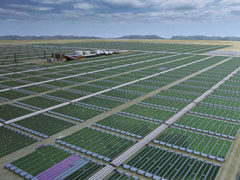 In addition, this extremely versatile source of energy can also be used as a basic food stuff that is highly nutritious, such as a form of vegetable oil, cooking oil, and salad dressing. When it comes to transportation energy and energy for industrial and technological needs, this renewable energy source can be converted into a number of different biofuels, such as biodiesel, biogasoline, bioethanol, biobutanol, biomethanol, and various other kinds of biofuels. So, all this points to that fact that algae bacteria really could turn into the energy source of the future.
For the original article,
click here
For more information, go to:
en.wikipedia.org/wiki/Algae_fuel
,
en.wikipedia.org/wiki/Algaculture
Leave a Reply
You must be logged in to post a comment.