In an effort to combat global warming, pollution, excess waste and a whole other slew of environmental problems companies and individual consumers are starting to choose corn plastic. The choice to buy biodegradable plastic wasn't realistically available until a few years ago when corn plastic became usable enough for things like utensils, and containers.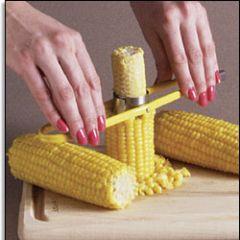 Corn plastics are made through a process that boils down the corn into starch liquid. It is then centrifuged so that the oil is separated from the starch. Once the starch is left it is mixed with citric acid and other ingredients and the result is a long chain polymer. Long chain polymers are the building blocks of plastic materials.
Although this is a major step in the right direction corn plastic has its downside as well. One major downside is that it cannot be mixed in with traditional plastics when recycled. Since corn plastic is plant based it needs to go to a composting facility rather than a recycling facility. There are only 113 current composting facilities in the United States.
Corn plastics are also largely made from genetically modified corn. Because the demand for ethanol fuel and corn plastic has increased so much, companies have chosen to tamper with corn genes in order to produce higher yields. Time will tell just how harmful this tampering may be to the environment and people.
Some pros include corn plastic does not emit greenhouse gases, and degrades much quicker than oil based plastic. Using corn plastic also cuts down on using the nation's oil supply to make regular plastic.
3 Responses to "PROS and CONS: Corn Plastic"
Nereida Falks Says:


I am very content to find this blog.Thank you for having the page! Im sure that it will become very popular.

September 13th, 2010 at 5:26 am
prada handbags Says:


Pretty good post. I just stumbled upon your blog and wanted to say that I have really enjoyed reading your blog posts. Any way Ill be subscribing to your feed and I hope you post again soon. Dylan

August 19th, 2010 at 1:19 pm
Yihenew Belay Says:


I was surprised as well as touched the effort to combat global warming, pollution, excess waste and a whole other environmental problems.

the web site is a good source of information especially who are interested in environment issues.

December 11th, 2009 at 12:30 pm
Leave a Reply
You must be logged in to post a comment.